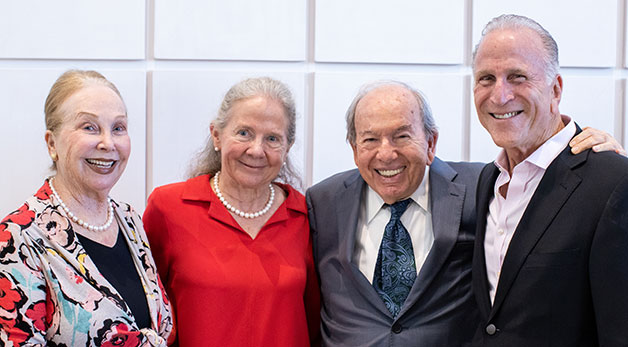 Carole Gerstein, Dean Patricia D. White, Burton Young, and Stan Blake
Thanks to a generous gift by wife Carole Gerstein, the late Richard Gerstein, B.B.A. '47, J.D. '49, will be honored at Miami Law with the naming of the Richard E. and Carole L. Gerstein Litigation Skills Program. The $1 million planned gift will also support the selection and placement of Gerstein Scholars; student interns who will be placed at the Miami-Dade State Attorney's office.
"We are pleased to recognize not only the generosity of Carole and Richard Gerstein, but we are excited to recognize their long-standing commitment to the legal profession and law school education," said Professor Laurence Rose, Director of the Litigation Skills Program. "Each semester our students enter the Gerstein Courthouse to try their first jury trial of their professional career, and they are excited to show the advocacy skills they have learned from our excellent faculty of judges and attorneys.  Now the students will benefit by their increased relationship with the Gerstein legacy to the legal community and professionalism through the Carole and Richard Gerstein Litigation Skills Program."
Before graduating from the University of Miami as a double alumnus, Richard E. Gerstein already had a storied legacy as an air force navigator during World War II. Most notably, for his service and dedication to country, he was awarded the Distinguished Flying Cross, the Purple Heart, and the Air Medal.
Returning to the University of Miami after his career in the Air Force, he received his B.B.A. in 1947 and Juris Doctor in 1949.  He retained strong links to the School of Law, serving as the president of its alumni association in 1955. 
His interest in politics started while earning his degrees at UM. He became president of Dade's Young Democrats.  Gerstein's great passion for justice and advocacy was palpable through his career upon graduation from law school, exemplified with distinction by his work as State Attorney in Miami-Dade County for more than 20 years from 1957 through 1978.  
During his six terms as State Attorney, he fought publicly and consistently against organized crime, gambling, and political corruption. He also gained national prominence in 1973 when he won the first conviction in the Watergate scandal against Bernard Barker on money laundering charges. This pivotal conviction directly linked the White House with the 1972 burglary at the Democratic Party's headquarters. Gerstein left his role as State Attorney in 1978 and entered private practice. In recognition of his incredible legacy of service, Miami's courthouse, built in 1962, was renamed the Richard E. Gerstein Justice Building in 1992. 
Burton Young, JD '50, past President of the Florida Bar and close friend to the Gersteins, praised the establishment of the fund and expressed his deep appreciation "to Carole for her generosity in making such a meaningful gift to memorialize the Gerstein name for Dick's iconic contributions to preserving and protecting 'the cause of true justice' here in the United States."