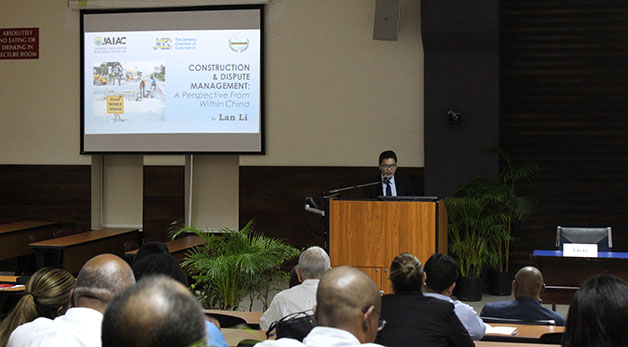 Alan Li, LL.M. student, at the Jamaican International Arbitration Center
Alan Li, a Chinese lawyer who is currently enrolled in the White & Case International Arbitration LL.M. Program, was recently invited by the Jamaica International Arbitration Center as the featured speaker in a day-long program on the topic of "Construction & Dispute Management: A Perspective from Within China."
Recently, China became the third largest source of foreign direct investment in the world and is a major source of growth assistance for developing countries, especially those in the Caribbean. Chinese President Hu Jintao in his report to the 18th Party Congress in 2012 mandated that "Chinese companies should expand their overseas presence at a faster rate, enhance their cooperation in an international environment and develop a number of world-class multinational corporations." Since then China has followed this path, globalizing its economy and raising new prospects, opportunities, and implications for Chinese FDI.
Having noticed more investment from China and more China-related disputes in the Caribbean region, JAIAC was looking for a Chinese lawyer who could speak from both "a within-China perspective" and from "an international practice perspective" – someone who has the first-hand experience of assisting Chinese companies do business abroad and resolve dispute in the international commercial world. Li, who went to law school both in Mainland China and in Hong Kong and worked as in-house counsel for the Chinese Fortune 500 company MIDEA before starting his studies at Miami Law, fit the bill to a tee.
"The Jamaica International Arbitration Center is a pioneer arbitration institution in the region which does a lot of work to develop Jamaica as an arbitration center under the leadership of Dr. Christopher P. Malcolm," said Li. "The audience at the seminar was very active and after my presentation, there was a panel discussion including a panel of construction leaders and legal practitioners, which triggered more positive interaction."
Li was recommended as a presenter to the Jamaica International Arbitration Center by International Arbitration Adjunct Professor John H. Rooney, Jr. Li was a student in Rooney's seminar on "International Commercial Arbitration: A U.S. Perspective." Li is also assigned to Rooney this semester as a participant in the program's International Arbitration LL.M. Practicum Program. 
"Opportunities such as this abound in Miami's sophisticated international business and legal environments," said Rooney. "In this case, Li's knowledge and experience were exactly what JAIAC needed."
In his presentation, Li discussed the growing importance of Chinese-Caribbean investment and trade relations and resulting dispute resolution. He said that a turning point for China followed the United States financial crisis in the year 2008 when U.S. private investment in the Caribbean declined even as Chinese investment surged. He adds that the Caribbean has prospects for garnering FDI from China in tourism, agriculture, energy, and mining. Several bilateral investment treaties have been signed with China, a trend that started well before China became a major source of investment in the Caribbean. For instance, Jamaica signed a BIT with China in 1994 and a Double Taxation Avoidance Agreement in 1996. These BITs relate to coverage of assets, dispute resolution, expropriation, and compensation.
Li also said that the circumstances for increased Chinese FDI in the Caribbean are promising. From the Chinese side, there have been indications of interest by Chinese enterprises and entrepreneurs driven by a combination of the existing drivers of Chinese FDI and the factors peculiar to the Caribbean. On the Caribbean side, there is the well-established accessibility of Caribbean governments to FDI in general.
At the close of the seminar, world-renowned Jamaican arbitrator Maurice Stoppi encouraged companies from both Jamaica and China to be more open-minded to each other's culture and to work together toward greater success.
"I am very grateful to have got such an amazing opportunity through Professor Rooney here at the Miami Law which offered me an international platform to share my experience and get new perspective about the practice of international arbitration." 
More on the White & Case International Arbitration LL.M. Program