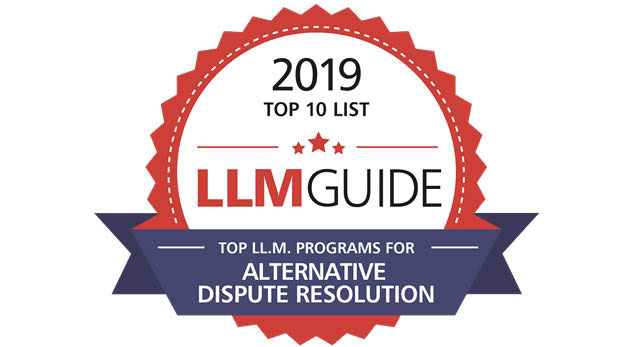 The University of Miami School of Law has been selected among the top schools in 2019 on LL.M. GUIDE's Top 10 Global List for Alternative Dispute Resolution. LL.M. Guide is the premier website with information on worldwide LL.M. programs and includes a directory of over 700 law schools.
Miami Law was included in the Top 10 listing due to its prestigious White & Case International Arbitration LL.M., which combines theoretical courses in dispute resolution topics with hands-on practical learning components. Specifically, students have the opportunity to take on a legal externship with the school's International Arbitration LL.M. Practicum program, complete a two-semester simulation of mock arbitration proceedings, covering all practical aspects of an arbitration form the arising of the dispute to the hearing. Also, students take skills-based learning courses including oral advocacy in international arbitration, international negotiations, and drafting complex arbitration clauses. 
The LL.M.'s curriculum provides foundational and advanced-level courses on all aspects of international commercial and investment arbitration as well as courses on specific sectors of international arbitration, such as sports arbitration, and on international arbitration in specific geographical regions, including the United States, Latin America, and Europe. For those who wish to take a U.S. bar exam, the school also offers LL.M. students the chance to take preparatory bar exam courses and foreign-trained lawyers may qualify to sit for a bar exam in the U.S. based on the LL.M. degree.
"We are very proud to be included in LL.M. GUIDE's global Top 10 ranking for Alternative Dispute Resolution," says Sandra Friedrich, director of the White & Case International Arbitration LL.M. at Miami Law. "This reflects the top-notch quality of our international arbitration curriculum and faculty, as well as the individualized career development support we provide to each of our students."
Miami Law is prominently positioned, academically and geographically, for the study of international arbitration. Miami is a major international trade and finance center at the "portal to the Americas" and a well sought-after venue for resolving international disputes through arbitration. Miami Law has created a unique infrastructure for students to network with international arbitration practitioners worldwide.
Students in the White & Case International Arbitration LL.M. Program are taught by an internationally-renowned faculty, comprised of world-class arbitration practitioners, including Rudolf Dolzer,  Andres Jana,  Carolyn Lamm, Jan Paulsson, and Nassib Ziade, who are frequently recognized by International Who's Who of Commercial Arbitration, Chambers & Partners Global-wide, and the Legal 500 in International Arbitration. The selective admission to the program allows for heightened attention and effective mentoring from our faculty who help students start or advance their arbitration careers. 
In addition, Miami Law's International Arbitration Institute embodies Miami Law's long tradition of engagement with the law of arbitration. Under its Director Marike Paulsson, the Institute strives not only for progress through the education of a new generation of arbitration lawyers but also for progress through research in international arbitration.  Students also have the opportunity to work as graduate research assistants with the IAI and individual Miami Law faculty members on cutting-edge research projects related to international arbitration. The findings of one of these projects, involving an unprecedented multi-year collection of data points culled from a great number of cases in the archives of the International Chamber of Commerce (Paris), is expected to be released in 2019.
Featuring an extensive range of law school profiles, an active discussion board, and an array of editorial content, LL.M. GUIDE is the premier web destination for LL.M. applicants. While its Top 10 Lists are not intended as definitive or scientific rankings, they take into consideration offered concentrations, research capacity, existing rankings, international balance, and location.
More on International Arbitration at Miami Law