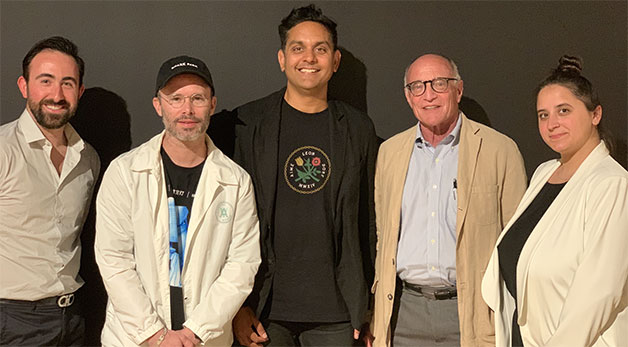 Greg Levy, Daniel Arsham, Vivek Jayaram, Professor Stephen Urice, and Samantha Finkel
Miami Law's Entertainment and Sports Law Society recently hosted an evening with world-renowned contemporary artist Daniel Arsham and his attorney Vivek Jayaram at the Lowe Art Museum.
Asham and Jayaram spent the evening discussing the intricacies of the art world and the legal issues that are continually surfacing for an artist in the 21st century. Art and museum law expert Professor Stephen Urice, director of Miami Law's Arts Law LL.M. Track, moderated the discussion.
Jayaram, the founder of Jayaram Law, highlighted the different legal issues that can arise when it comes to representing creatives, like Arsham. Specifically, Jayaram spoke of the unique role law plays in the world of art and the critical role an attorney comes to have in an artist's career. He delved into how intellectual property is one of the most significant issues in the art world today. However, and despite being the central legal issue associated with art, Jayaram emphasized how IP is but a single point in the multitude of those which are faced by an artist daily. 
As the conversation progressed, it became clear that one of the most useful forms of defense in an artist's arsenal is the fair use doctrine. The doctrine, as both Ashram and Jayaram explained, is an effective strategy that is commonly used to tackle copyright issues when they arise. Despite the understanding that copyright issues will only be between an artist's work and other entities, Ashram revealed just how complex the problem could become for an artist. 
Copyright ownership also becomes a significant issue that arises in the stages of establishing retail store designs, marketing campaigns, and collaborations, Ashram said, issues which Jayaram is aware of as he drafts and forms contracts between his client and interested third parties. According to Jayaram, the use of specially tailored intellectual property language is crucial to any artist's agreement. 
As the night ended, both Ashram and Jayaram left the audience with some insightful advice. Ashram, who addressed the young and emerging artists in the room, emphasized the importance of having a strong relationship with an attorney who is both specialized in all matters of intellectual property, but more importantly trustworthy to handle the artists' contracts and relationships. As Ashram pointed out, being an artist in today's marketplace is not just limited to contracting with galleries or exhibitions. Instead, the relationship has grown to be far more complex given the emergence of communication and technology. While the art world continues to remain a physical profession, the relationships which arise have gained a new level of complexity that most often requires some form of legal opinion or insight. 
For young attorneys in the room, Jayaram discussed the paths to becoming a lawyer specializing in the world of art. The complex world of art requires attorneys to play various roles, he said. Not only must the attorney know about intellectual property matters, but according to Jayaram, he is continuously encountering a series of legal issues ranging from tax law and labor law to fundamental contract disputes, and everything in between. He emphasized the importance of an attorney, who decides to work in the art world, to be aware of all the possible issues that can occur. 
The event concluded with a Q&A section, during which time both Ashram and Jayaram discussed social media initiatives, forms of communication, new defenses, and possible issues they expect to combat in the future. 
Learn more about the LL.M. in Entertainment, Arts and Sports Law