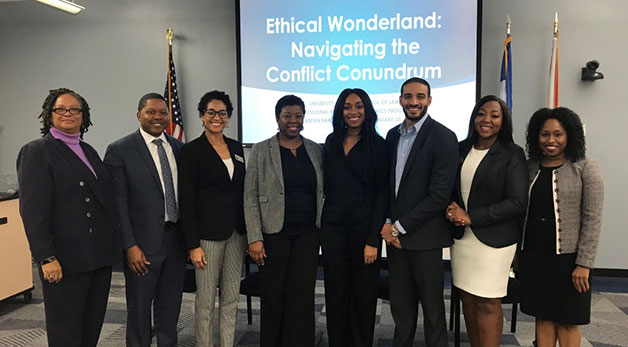 Ten Stallings (center), Shawn Wilbourne and Caribbean Bar Association Officers
This Spring, Miami Law's Professional Responsibility & Ethics Program students had the opportunity to tackle a myriad of topics with a diverse group of bar associations throughout South Florida. Under the supervision of director Jan L. Jacobowitz, students researched and presented a wide variety of hypothetical dilemmas to facilitate discussion with members of the Caribbean Bar Association, the Bankruptcy Bar Association, the Key Biscayne Association, the Florida Association for Women Lawyers, and the Miami-Dade County Bar Association. 
PREP interns Ten Stallings and Shawn Wilborne kicked off the Spring semester in Fort Lauderdale, with the Caribbean Bar Association, to discuss navigating the "Ethical Wonderland" that lawyers may find themselves in when managing multifaceted representations, communicating with diminished capacity clients, and handling inadvertent disclosures.
"You can do a ton of research on a topic and think of yourself as an expert on a certain issue," said Stallings, "but there is nothing like discussing the rules and ethics opinions with a room full of lawyers, with a diverse set of practices, to get a well-rounded education on how the application of rules pans out in real life." With attorneys in the public and private sector, large firms and solo practices, the conversation with the audience was lively and full of different perspectives. 
"The presentation was a blast and I was truly grateful to everyone that came out. I loved presenting in front of such a talented room of people. I learned more about the practice of law than any amount of research could have taught me," added Wilborne. 
Interns Nico Nesenoff, Michael Zilber, and Dimitrije Canic also traveled to Broward for PREP's annual presentation at the Bankruptcy Bar Association's Brown Bag with Judge Olsen and Judge Moira. They addressed ethics issues regarding ghostwriting, referral fees, and social media in the bankruptcy context.
"It was incredible to not only present in front of well-respected judges and lawyers but to also present alongside the judges as we discussed and debated various hot-topic ethical issues," said Zilber. 
"It was such a wonderful opportunity to present in front of esteemed lawyers and judges in the Bankruptcy community and to have enhanced my own knowledge in one of my preferred areas of practice," added Nesenoff. 
"It was a surreal experience to teach attorneys about ethical implications in the bankruptcy context together with esteemed bankruptcy judges," said Canic. "This is an opportunity that not many people get to have in their law school careers, and it is one I will never forget."
Nesenoff and Wilborne also attended Key Biscayne Bar Association's March meeting, along with AJ Hasan.  PREP is known for researching cutting-edge topics, as reflected in their program title, "Technology in Hyper Speed," which focused on legal ethics issues arising as the legal profession confronts the challenges of using blockchain Smart Contracts, Facebook Live, and other technology such as cloud computing storage, Wi-Fi networks, and redaction software. 
Key Biscayne's customized hypotheticals were especially fun because "the temperature might have been near freezing (the evening presentation was outside at the Yacht Club), but the topic of legal ethics and technology is hotter than ever. I had a wonderful time presenting to the Key Biscayne Bar Association," Hasan said. 
"The Key Biscayne Yacht Club was a terrific location and everyone to be engaged in the lovely discussion that ensued," added Nesenoff. 
"I learned so much from the audience. I love hearing how our classroom hypotheticals play out in the real world," said Wilborne.
PREP students Ten Stallings, Chandler Culwell, and Sydney Feldman demonstrated their "Girl Power" at the Florida Association for Women Lawyers meeting. The combination of PREP's hypotheticals and the diverse group of attorneys' real-life examples created a lively discussion about the impact of social media on litigation, crowdfunding, and judges on social media. 
 Culwell remarked, "Speaking on crowdfunding, a new PREP presentation topic, was an incredible opportunity. The research process led me down several avenues I'd never considered such as what collecting fees may be like in my practice as the technological landscape changes. The attendees contributed a lot of insight from their own experiences," 
Presenting for the first time, Feldman said, "I was nervous while I was preparing for the presentation, but it was fantastic. It was interesting to think and learn about the ethical implications of social media interactions between judges and lawyers, and we had a very active audience that really contributed to the presentation." 
"Jan does a great job of keeping the energy in the room so that no matter how many people are in attendance, we have an animated and dynamic discussion," said Stallings. "The best presentations are always when our research is supplemented by 'What would you do?' discussions!"
Lawyers at the Miami-Dade County Bar Association meeting also participated in a specially tailored PREP presentation, facilitated by Zilber, Canic, and Natalia Jaramillo. The students focused on lawyer well-being and its impact on ethical missteps, in the context of trust accounts, attorney romance and breach of confidentiality, and attorney supervision.
Zilber commented, "It was a great experience discussing the complexities of attorney-attorney relationships and how that intertwines with attorney supervision. The ability to do so with an esteemed panel of Miami Dade County lawyers was an experience unmatched with any other in law school." 
"I did not consider well-being an issue when thinking about law or employment generally," added Canic. "But research shows that the lack of well-being is a growing problem that can have serious ethical implications, and the opportunity to learn more about it and educate others was a rewarding experience on multiple levels."
"Talking about 'pillow talk' between attorney-spouses and significant others at the DCBA was an incredible experience, I really enjoyed talking to the attorneys and getting their opinions as to the best way to communicate with a spouse or significant other and remain cognizant of the confidentiality rules," Jaramillo shared. 
Deborah Corbishley, a partner at Kenny Nachwalter, who organized the event emailed the students to express her thanks.  She wrote, "I wanted to say thank you again, as you all get ready to take the last law school exams.  You did a great job, and the materials you prepared were deeper than we expected  -- I recently went over the power point again and it gets more impressive each time.  The program was so good, they want to do it again…"
PREP is an award-winning program that develops continuing legal education ethics training for the legal community. The program combines the attributes of an ethics institute and an ethics clinic, has dedicated hundreds of student hours to public service and has educated thousands of members of the Bench & Bar. During training, students are often able to make a positive impact on attendees by prompting them to consider and reconsider their approaches to some of the toughest ethical dilemmas that may arise in the practice of law.
In 2012, PREP was recognized by the ABA with its E. Smythe Gambrell Professionalism Award, the leading national award recognizing programs and projects contributing to the understanding and advancement of professionalism among lawyers and judges. In addition to presenting ethics training, throughout the semester PREP students publish blog posts regarding the nation's newest ethics opinions. The blog, Legal Ethics in Motion, can be found here.