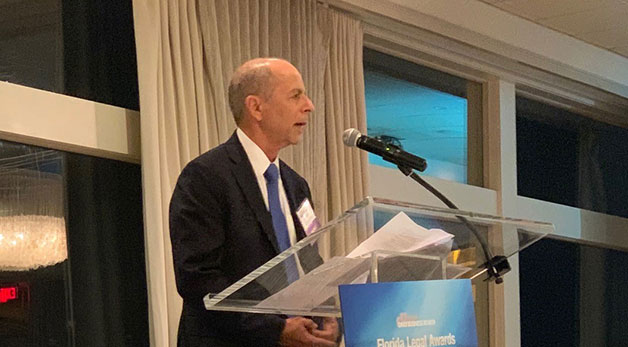 Miami Law adjunct John Barkett receiving Lifetime Achievement Award
Noting his 44-year legal career, The Daily Business Review bestowed Shook Hardy & Bacon partner John Barkett its Lifetime Achievement Award at a recent ceremony. The honor is among the DBR's 2019 Professional Excellence Awards.
The Miami Law adjunct's commitment to the legal profession allows him to be a problem solver to clients, a teacher to other lawyers, and instrumental in helping to improve ethics and procedure in the legal profession.
At the request of the Chief Justice, for seven years, Barkett served as a member of the Advisory Committee on Civil Rules and played a major role in the 2015 and 2018 amendments to the discovery rules Rule 37(e) and Rule 23, respectively. For two of those years, Barkett also served on the American Bar Association's Standing Committee on Ethics and Professional Responsibility, a body that he still serves on today. In these roles, Barkett has impacted both the practice of federal litigation and the ethical responsibilities of the profession. 
Barkett is regarded as one of the premier environmental lawyers in America. He is a fellow of the American College of Environmental Law and is one of the "go-to" Superfund allocators in the United States. He has also been recognized for his dispute resolution skills, having been made a Fellow of both the American College of Civil Trial Mediators and the College of Commercial Arbitrators.
A prolific writer, Barkett has authored two books on eDiscovery, an annual analysis of the Roberts Court's decisions, and has had numerous articles published on environmental law, ethics, civil procedure, eDiscovery, and domestic and international arbitration. He has also helped shape the next generation of lawyers as an adjunct professor of law at Miami Law where he has taught "E-Discovery" since 2007.