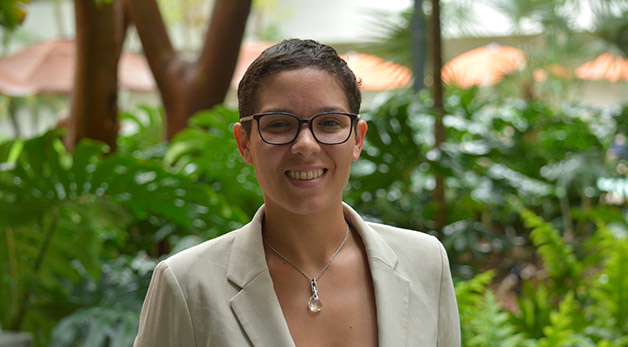 Maddie Seales
The Public Interest Leadership Board is proud to introduce its President for the 2019-2020 school year: 3L Miami Scholar. PILB is a student-run leadership board overseen by the HOPE Public Interest Resource Center that works to grow the public interest opportunities and community at Miami Law. 
PILB's core initiatives are based out of three committees: Advocacy, Fundraising, and Mentoring. Seales will serve alongside Advocacy Chair 3L Alexis Bay, Fundraising Chair 3L Miami Scholar Caitlyn Burnitis, and Mentorship Chair 3L Evan Kuhl. 
Looking to Make a Campus-Wide Impact
Seales, who is originally from Seattle, Washington, is excited to take on this role and make an impact not only on PILB but on the campus as a whole. 
"I wanted to take on the role of President of PILB because it's the ideal position to not only implement ideas about what I want to see on campus but also help implement the many great ideas that our PILB members have. As a 3L Senator and someone who is active in various student organizations, I am hoping that I can increase students' pro bono and public service engagement campus-wide," said Seales. 
"Maddie is passionate about working to provide justice for all people. She is an innovative leader who works tirelessly to help create a more fair and just society," said Burnitis. "As Fundraising Chair of PILB, I look forward to working with Maddie as President, and I know she will do incredible things to further increase public interest opportunities throughout the law school." 
A Public Interest Leader Since Her 1L Year
Seales has been an active member of PILB since she was a 1L. During the 2018-19 school year, as a member of the Mentorship Committee, she helped run the Public Interest Picnics that took place on The Green, where students gathered during the farmer's market once a month to socialize with their fellow classmates interested in social justice and public interest. She also served as a mentor through the Public Interest Network (PIN), another one of PILB's community-building programs that match 1Ls with 2Ls or 3Ls to help incoming students navigate their first year of law school. 
"I have had a really great relationship with my PIN Pal this year. I invited her to dinner at my professor's house, she was a witness in my Litigation Skills trial, and she is now also on PILB," said Seales.
Mentoring Incoming Law Students
Seales' PIN Pal and new PILB member, 2L Erica Auer, agrees that the match was a success and Auer is looking forward to continuing to work with Seales in her new role, "I am so grateful to have been paired with Maddie through the PIN program. She really took the time to understand my interests and goals before giving me advice. She invited me to events that she knew would interest me, included me in activities, and introduced me to people along similar paths. 
"Overall, Maddie helped shape my 1L year in the most positive way. Her energy, passion, and commitment are inspiring. These are just a few of the reasons Maddie is the perfect person for PILB president - to bring that same energy to not only 1Ls, but to all levels of law students," said Auer.
How to Get Involved
As President, Seales hopes to maximize PILB's outreach to the campus community. "I will work to increase PILB's visibility, build new pro bono programs, increase awareness of workshops and speaker opportunities on campus, and educate the community on the importance of giving back," said Seales.  "I want everyone on campus to be involved with the work of PILB in one way or another next year!"
To stay up-to-date about PILB's initiatives, be sure to read HOPE's weekly E-News, emailed to all Miami Law students each Monday when school is in session. All Miami Law students are welcome to visit the HOPE Office to learn more about how to get involved in advocacy in the public interest. The office is located on the 4th floor of the Law Library in room 446.