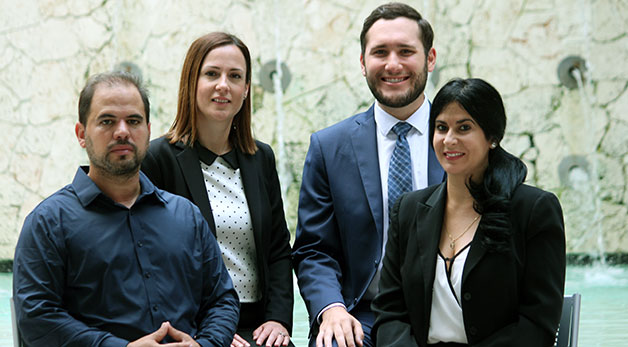 Omar Del Olmo, Marisel Marrero, Joseph Vargas, Lietty Mejias
A group of J.D. and J.D./LL.M. students in this summer's Health Rights clinical course share a similar legal journey with one another – they have all earned their Licenciatura en Derecho, a J.D. equivalency, from Cuban universities and they all have studied in Miami Law's LL.M. in U.S. and Transnational Law for Foreign Lawyers before commencing their J.D. studies. Joining them is a Cuban-American with deep ties to Spanish culture. The other thing that unites them in their quest is – through their clinical practice – to achieve everything for their clients.
Experience Representing Real Clients
"I chose the Health Rights Clinic because I wanted to live the experience of representing real clients in real legal matters," Lietty Mejias, who was a judge with the Tribunal Provincial Popular and a 2009 graduate of the University of Havana. "As a judge, I never had the opportunity to be involved with clients, as I am now. I never got to know how they thought, what they did, and most importantly, how they felt.
"Now I represent clients who are very poor and sick – people whose histories are very emotional," the J.D. '20 candidate said. "It is not enough to just take classes; it is necessary to explore and know how the world works outside the classroom." 
Caseload = 84 Cases and 67 Clients
The five students are handling 84 cases representing 67 clients and for four of them, it's in their second language. They are deep into the definition of caseload, with 50 immigration, 33 Social Security, and one public benefits cases between them. 
Miami Law's Health Rights Clinic is a medical-legal partnership operated in collaboration with the UM Miller School of Medicine. Students participating in the Health Rights Clinic represent multiple clients in different legal matters related to health. 
"What has surprised me most is that every case is an adventure," said Anabel Garcia Gonzalez, a 2015 University of Havana graduate. "Sometimes I have had to change the theory of a case and the way to proceed based on new facts I gather from the clients, or even a change of circumstance, for instance, a change in migratory status or a worsening of a medical condition. I believe it is a very good exercise of law and social work."
Work Under Supervision Representing Low-Income Patients
Under the guidance of Associate Director Melissa Swain, clinic students represent low-income patients of the South Florida Aids Network, Jackson Hospital and other medical partners.
 
"It has been a great teaching experience supervising and training this group of students with very different backgrounds; they have already worked as lawyers and judges in Cuba," said Swain, who is fluent in Spanish. "Now they are working on their first actual cases in the United States and working in their second language. Their passion for their clients and their work ethic has inspired me tremendously."
Omar Del Olmo has found the clinical participation to be as valuable to him as to the clients. "The work I do in the clinic involves helping people in need of crucial legal assistance," he said. "It gives me the opportunity to contribute my skills to assist low income and disabled clients." He counts the clinic staff and attorneys' "good attitude, patience, and guidance" as one of the most valuable parts of the encounter.
Practicing Law in English and Learning First-Hand Skills
The students function as the clients' primary advocates, conducting intake interviews, conducting legal research, filing legal pleadings, and legal documents. They develop case strategies and theories and represent their clients in administrative hearings and court.
 
"I believe that there is no better way to learn than to practice on actual cases," said Marisel Marrero Lopez, a 2018 LL.M. in U.S. and Transnational Law for Foreign Lawyers graduate. "We use all our resources to help the clients and become close to them throughout the handling of their case. The time spent researching, drafting, and filing the cases is invaluable to my growth as an attorney learning to navigate systems such as the Social Security Administration," the University of Matanzas graduate said. 
 
The Miami-born Joseph Vargas is the singular outlier in the class of Cuban-born. The 2021 J.D. candidate is nonetheless surprised by the extent of the hardship among the clinic's clientele. "It is easy for most to acknowledge that there are issues of homelessness, health care, and poverty in Miami, but until a student joins the Health Rights Clinic, it is only then that we have a fuller understanding of the constant struggle deserving individuals in our community face," he said.
"Being a part of a law school that helps tackle that with the support of an entirely Cuban student-driven clinic is the most rewarding."
More on the Health Rights Clinic 
---
FOLLOW UP: On September 5, 2019, Lietty Mejias, under the supervisiion of Melissa Swain and Yasminat Assis -Reveiz, won a Naturalization appeal at the USCIS Miami Field Office for a severly disabled Cuban Refugee. USCIS had previosly denied the client twice. The clinic had been representing her and her family since 2016. Mejias was able to prevail at the hearing. Now, as a U.S. Citizen, the clinet will be able to receive life-sustaining disability benefits.