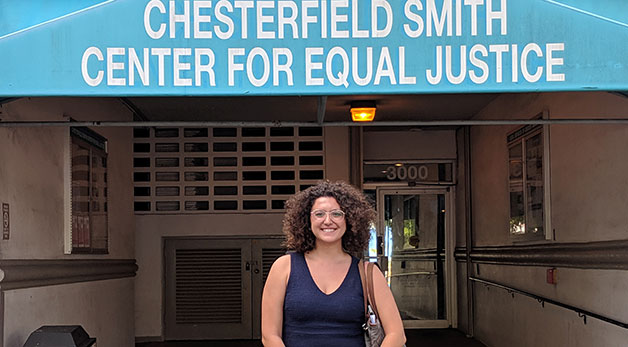 2L Hannah Hays 
The Aqua Foundation for Women Scholarship recently named Miami Public Interest Scholar Hannah Hays their inaugural Elizabeth Schwartz Scholar. 
"The Aqua Foundation is a group for and by LBTQ women," Hays said, "and I am honored that the amazing activists that have come before me are willing to guide, share, and build with my peers and me as we figure out how we want to serve and fight for the LGBTQIA+ population in South Florida and beyond."
The rising second-year law student is originally from Kentucky and graduated from Boston College Lynch School of Education in May 2016 with a B.A. in applied psychology & human development. She earned her M.A. in higher education administration and policy in May 2018. In her second year of law school, she will serve as the vice president of the UM Chapter of the National Lawyers Guild, and the activism chair for OUTLaw.  
"The scholarships are given to promising LGBTQ women and trans/NB students who were selected due to their outstanding academics, consistent commitment to the community, and their leadership potential," says AQUA Scholarship Committee chair Gisela Vega.
Founded in 2007, the Aqua Scholars program has been helping young women in the community achieve their goals in higher education by providing the funds to facilitate their learning as well as mentorship to help them achieve academic success. Each year a group of outstanding LBTQ leaders is paired with more experienced members of the community who have been in their shoes. 
With both academic, professional, and personal guidance from their mentors, each scholar is given the opportunity to attend meetings, a leadership conference, and community service events, as well as the chance to forge relationships with like-minded people working for positive social change.
The Elizabeth Schwartz Scholarship was created to provide a $10,000 award to 2nd or 3rd year LGBTQ female law students. Schwartz, J.D. '97, has generously offered to mentor the scholarship recipients. The program was created to honor Schwartz and to assure others continue in her legacy of activist lawyering for LGBTQ rights.
Hays hopes to use her law degree to better understand how the legal system oppresses and exploits marginalized communities to better serve organizations and individuals working to build power through grass-roots social movement and disruption.  
"I am so grateful that Miami Law has given me the space and resources to explore a future career in public interest law," Hays said. "Thanks to the help of people like Assistant Dean of Public Interest & Pro Bono Marni Lennon and upcoming OUTLaw President Amelia Daynes, I have had a rare opportunity to challenge myself both personally and professionally without feeling like I ever have to sacrifice my commitment to social justice or my LGBTQIA+ community."
More on Public Interest at Miami Law 
More on the Miami Scholars Program