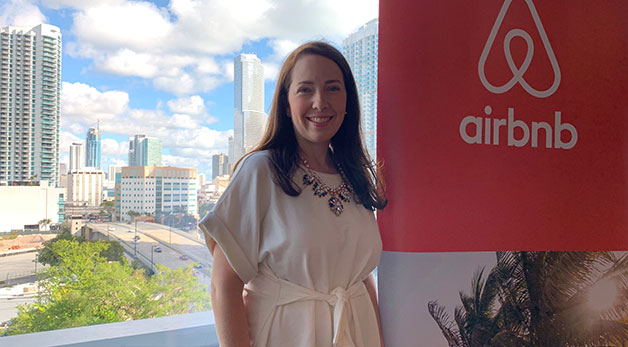 Graziella Gonzalez, LL.M. student
When Airbnb's Latin America legal department went looking for a legal intern, they found the perfect fit in Graziella Gonzalez, an LL.M. student in Miami Law's U.S. and Transnational Law for Foreign-Trained Lawyers Program.   
The Venezuelan attorney was both a big fan of the hospitality giant and had a C.V. that read like a five-star booking review. She had practiced administrative, public law, litigation, and tax in Caracas, before joining her family's property management firm as their legal representative where she practiced real estate and corporate law. 
Gonzalez had followed her father into the law, graduating from Universidad Catolica Andres Bello in Caracas and practicing in similar areas. In 2016, Gonzalez, her husband, and their three children – ages 10, 8, and 7 – moved to Miami and Gonzalez started looking for opportunities stateside.
"I saw this program and was excited to apply," she says. "My first interview was with Carmen [Perez-Llorca, director of the International Graduate Law Programs]. She guided me through the process and was really a great help. It's been wonderful."
Specifically designed for the foreign law graduate, the LL.M is Miami Law's general postgraduate offering. The program welcomes attorneys from all over the world to continue the study of law in a context that emphasizes American common law and its impact in the global economy. While technically a specialization in the International Law LL.M., the program permits unusual flexibility and allows students to choose courses in their area of interest from the general law school curriculum and structure their studies according to their professional goals.
"The program can really be transformative for students like Graziella, a seasoned lawyer in her own country who needed a stepping stone for her career development in the United States," says Perez-Llorca. "With the LL.M. in U.S. and Transnational Law for Foreign Lawyers and her job as legal intern at Airbnb, Graziella is acquiring both the knowledge and the skills that she needs to achieve her goal of working in-house in Florida- in addition to the ability to take a bar exam in the US, which, like many of our international students, she plans to do in New York."
 
When the international law LL.M. student booked the internship, she was already well into her curriculum, studying startups and entrepreneurship with Dan Ravicher, Director of the Larry Hoffman/Greenberg Traurig Startup Practicum and business associations with Professor Andrew Dawson. 
"Those classes helped me a lot," says Gonzalez, "because they gave me context for the office discussions."
At Airbnb, Gonzalez is involved with assisting on legal matters related to Airbnb for countries in Latin America, including research and analysis of various aspects of corporate, international and statutory law, and drafting memoranda on various legal issues for countries in Latin America. 
The one-year internship will take her through her December 2019 graduation; she will then study and sit for the New York Bar in NY.  
After that, she hopes to work as in-house counsel somewhere with a Latin America connection, even at Airbnb, if available. "I would love to stay there," she says. "It's a great team and I welcome that opportunity."
More information on the LL.M. in U.S. and Transnational Law for Foreign-Trained Lawyers
More on all LL.M. Programs