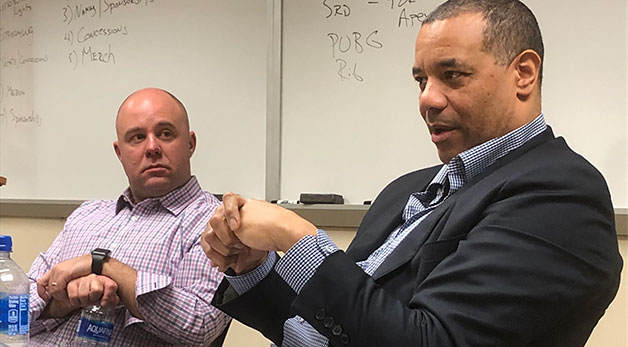 Chris Greely and Jared Bartie
The world of competitive gaming has grown to rival traditional stick and ball games, two of the titans of esports told students in the Entertainment, Arts and Sports Law LL.M. program in a recent workshop, "Overview of the Esports Ecosystems" at Miami Law.
Many of the same stakeholders from the NFL and NBA are backing esports ventures according to Chris Greeley, an attorney on the leadership team of Riot Games, and Jared Bartie, a sports attorney who has watched his esports practice flourish in recent years. 
The Rise of Esports Revenue
A global consumer phenomenon, esports revenues reached $906 million in 2018, up 38.2% in one year, according to industry analysts; a worldwide audience estimated at 165 million. The industry reports that business is five to 10 years from fully maturing, with brands investing $1.4 billion by 2021.
Greeley is a senior manager at Riot Games, and commissioner and head of league operations for the League of Legends North American League Championship Series. Before joining Riot, he was a partner at Herrick, Feinstein LLP in New York City. Riot has grown to 23 offices worldwide since its founding in 2006.
"I think the model is phenomenal," Greeley said. "If you buy into the idea of asset appreciation over time, what you are seeing within the first two years are upticks in valuation. How long will it last? Can you maintain relevance? You are seeing a nine-figure valuation on a video game team. This is a hot thing."
Moving from Traditional Lawyer to Specialty in Esports
Greeley, who started out as a lawyer-by-day, gamer-by-night, outlined the breadth of the gaming world – from first-person shooting games, like Overwatch and Rainbow Six Siege, to the softcore trading card games like Hearthstone. 
In nearly every category, what started out as one player games, pivoted to groups of friends, then to online gaming communities, to the professional world where players, with names like Dr. Disrespect and Double Lift, command salaries in the multiple millions of dollars; player pay begins at $75K in most leagues, with the average player pulling down $335K annually. 
Bartie, a partner at O'Melveny & Meyers LLP and co-chair of the firm's Sports Industry group, has a long history in sports representation, having held senior leadership positions at the  United States Tennis Association, the National Basketball Association's Charlotte Bobcats, and the NBA's Team Marketing and Business Operations group.
Expanding Sports Law Practice into Esports Arena
 He has developed a robust esports practice, advising on team investments, league entry negotiations, corporate sponsorships, player contracts, and arena development deals.  Bartie leverages his vast experience in traditional sports to deliver value to his esports clientele.  
"If you have an understanding of traditional sports, you can draw upon that knowledge," Bartie said, "to establish a career in the esports space." 
Read more about the LL.M. in Entertainment, Arts and Sports Law.