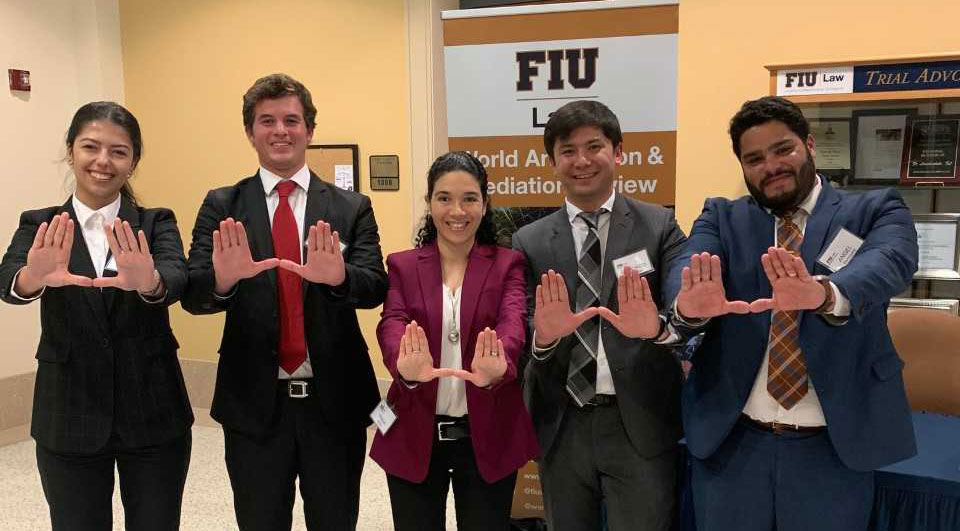 Irina Mocanu, Dilmurod Satvaldiev, Paula Arias, Alejandro Chevalier and Ángel Bermúdez
Arundathi Venkataraman, an LL.M. student in International Arbitration, achieved the highest overall score during the 2019 International Commercial Arbitration Pre-Moot as Best Oralist on February 9, 2019. Venkataraman participated in the competition as part of Miami Law's International Moot Court Program. The competition was held at Florida International University and serves as a training for the larger, prestigious Willem C. Vis International Commercial Arbitration Moot Miami Law participates in every year in Vienna, Austria.
In addition to Venkataraman, the Miami Law Vis moot team included LL.M. student Alejandro Chevalier and students Angel Bermudez, Dilmurod Satvaldiev, and Irina Mocanu, all joint degree J.D./LL.M. students in International Arbitration. The pre-competition serves as a clinical tool to train law students through two crucial phases: the writing of memorandums for claimant and respondent and the hearing of oral argument based upon the memorandums. 
Professor John Rooney and Paula Arias, director of Miami Law's International Moot Court Program, and Sandra Friedrich, director of Miami Law's White & Case International Arbitration LL.M. Program, coach the Miami Law Vis moot team.
"This FIU Pre-Moot was the first practice exercise that the team participated, and the team exceeded my expectations," said Arias. "We had just started practicing oral advocacy skills. We had been focusing on strategizing the case and the written advocacy skills since October. 
"The team is growing with every practice and we know they will be ready to highly represent Miami Law in April in Vienna, Austria at the Williem C. Vis Moot Court Competition." 
Participation in the international Vis Moot competition is part of Miami Law's International Moot Court Program which is holding tryouts for the 2019-20 school year on March 28-29, 2019. The program is a "great opportunity for our law students to learn a challenging and new matter of law, while honing their public speaking skills and learning the art of persuasion in a multicultural environment," said Arias.
The same team also participated in another Vis Pre Moot on February 23rd in the Florida Bar International Law Section Richard DeWitt Memorial Vis Pre-Moot which has been organized for more than eight years to help Florida law schools better prepare for the competition in Vienna.
This pre-moot gives students an opportunity to practice and sharpen their skills by presenting and defending their legal arguments and receiving feedback from some of the best practitioners in the field. 
The daylong event was hosted at JAMS Miami Resolution Center and included several rounds between the competing law schools with practitioners from South Florida. In describing the pre-moot JAMS's website says "Students must argue the jurisdictional, procedural and substantive issues raised by the case before a panel composed of practitioners, under the applicable international treaties and rules. The subject matter of the competition is typically a controversy that arises out of a dispute governed by the United Nations' Convention on Contracts for the International Sale of Goods. The event brings together practitioners and students that share a passion for international law." 
In the ILS Vis Pre-Moot, Miami Law student Angel Bermudez received an honorable mention.
Miami Law offers one half-tuition scholarship (currently $25,640) to current or past participants of the Willem C. Vis Moot, including students, coaches and volunteer arbitrators.
---
Interested in the International Moot Court Program?
Learn More 
Apply online beginning March 9. Oral tryouts to be held April 5-6, 2019. For information contact Director Paula C. Arias or stop by Room A316B.