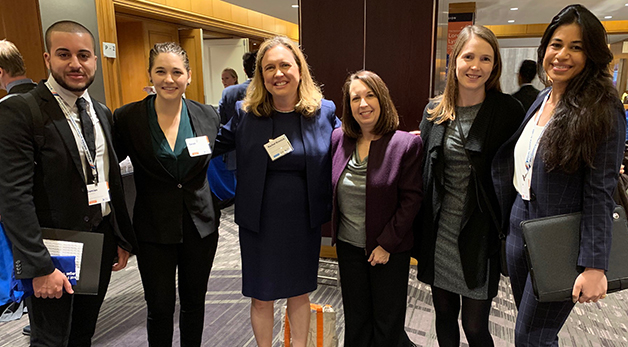 3L Damian Gonzalez, 2L Sarah Lilly, Rachel Kronick-Rothbart, J.D. '96, Sharon Booth and Sara Baez of HOPE & 2L Sana Qamar
Twenty-five students from Miami Law attended the Equal Justice Works Conference and Career Fair in Washington, D.C. in the fall. The event is the nation's largest public interest legal conference and career fair. With a career office for public interest networking, many Miami Law students secured interviews prior to the conference. Sharon Booth from Miami Law's HOPE Public Interest Resource Center shared that the HOPE Office assisted students in preparing for the event, holding a pre-departure meeting for the group and providing resume review and mock interviews.
The conference brings together more than 200 public interest employers to conduct Table Talk and interviews for internships and full-time positions, while also providing opportunities for students to participate in workshops and panel discussions.
Miami Law students not only interviewed for summer and post-graduate positions but also took the opportunity to explore the conference sessions on topics such as Crisis at the Border: Human Rights Violations at Family Detention Centers; A True Second Chance: The Impact of Prison Education on Reentry and Reform; Criminal Justice Reform: Working to Fix the System from Both Sides of the Courtroom; and My Client, Earth: Pathways to a Career in Environmental Law.
Students also had a chance to hear from former U.S. Attorney General Loretta Lynch and representatives from Everytown for Gun Safety. "The session I attended reminded me why I was there. Formerly incarcerated individuals who were positively impacted by education advocacy in the prison system told their stories and put the whole event into perspective," said 2L Alexa Flora.
All EJW participants have the opportunity to attend Table Talk, which is an informal way to engage in discussions with organizations and apply for summer internships.
Tori Simkovic, a 1L who attended the conference for the first time said, "I am so glad I decided to go to the Equal Justice Works Conference. Traveling to D.C. and connecting with other students who share my enthusiasm for criminal justice reform reminded me of why I decided to go to law school. I spoke with employers, networked, and forged meaningful relationships that I truly believe could impact my future employment opportunities."
On the evening prior to the conference, Miami Law hosted a reception at Holland & Knight to introduce Dean Anthony Varona to alumni in the D.C. area. Current students and graduates had a chance to network and celebrate their accomplishments. During the event, Law Alumni Awards were presented to Marni Lennon, J.D. '95, Assistant Dean for Public Interest and Pro Bono and the Director of the HOPE Public Interest Resource Center, and Leila Marie Jackson Batties, JD '98, of Holland & Knight. "HOPE began connecting with alumni during the EJW Conference over 15 years ago. What a pleasure it was to have the opportunity to see our DC alumni and introduce Dean Varona to our dedicated and exceptional graduates."
This annual visit to Washington, DC, coordinated through the HOPE Public Interest Resource Center, is one of the many ways Miami Law students lead by taking the initiative to explore public interest opportunities and pursue public interest positions.
More on Public Interest at Miami Law
More on Networking in the Public Interest Legal Arena