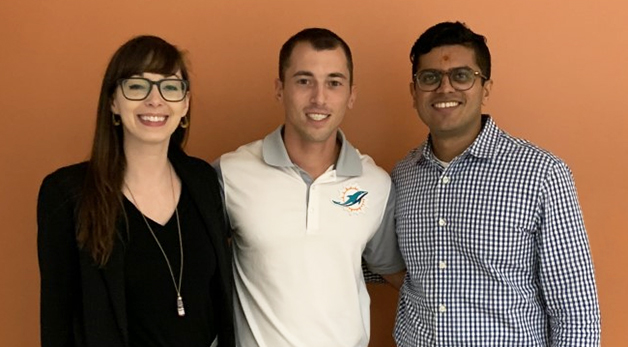 Cameron Bonk, Tom Pasquali & Pravin Patel
Next month, six students from the LL.M. in Entertainment, Sports and Art Law program will represent Miami Law at sports contract negotiation competitions in the areas of baseball, basketball, and football held at Tulane University Law School in New Orleans.
"The competitions give us a great opportunity to hone our negotiation skills against other law students from different schools," says Josh Levey, a 2020 LL.M. candidate.
Miami Law Students Competed to Attend
The Miami Law student teams competed during the fall semester against five other teams in the Miami Law Football Negotiation Competition to win a slot in the 5th Annual Tulane Professional Sports Negotiation Competition, which is divided into three areas: the International Baseball Arbitration Competition, the Professional Football Negotiation Competition, and the Professional Basketball Negotiation Competition. Miami Law students placed second in a Tulane Sports Moot earlier in 2019.
Adds Levey, "The competitions will be judged by front office executives from several professional sports franchises, and the opportunity to get that exposure is invaluable. We will be well prepared, and I am looking forward to the experience."
Tom Pasquali, manager of football administration for the Miami Dolphins, Cameron Bonk, an associate in the litigation department at Weil Gotshal; and Pravin Patel, an NFL agent, and associate in the complex commercial litigation department at Weil Gotshal, judged the Miami competition.
Moot is a Simulated Contract Negotiation
The Professional Football Negotiation Competition, run by the Tulane Sports Law Society, is a simulated contract negotiation using real-life scenarios and actual upcoming NFL free agents. Marc Brown and Drew Huffman will represent Miami Law in the competition that provides participants with the opportunity to sharpen their negotiation skills as well as their knowledge of actual NFL contracts.
To simulate an actual negotiation, the participants will receive a set of confidential objectives that serve as guidelines for the negotiation. Participants will either represent the football club or the free agent.
Experts in the industry serve as judges for each negotiation and will conclude the competition with a discussion of relevant NFL topics.
Competitors Sharpen Advocacy Skills
Miami Law students Julianna Rubin and Nicholas Mucerino will compete in the Tulane International Baseball Arbitration Competition, a simulated salary arbitration competition modeled closely on the procedures used by Major League Baseball. Like most law school moot court competitions, TIBAC's main goal is to provide participants with the opportunity to sharpen their oral and written advocacy skills. However, the competition is unique in that it allows law students to sharpen these skills within the specialized context of MLB's salary arbitration proceedings. Additionally, after the arbitration competition, Tulane's Sports Law Society hosts a panel of experts to discuss legal issues related to baseball.
Levey and Ryan Chusid will represent Miami Law in the Professional Basketball Negotiation Competitions, a simulated Free Agency negotiation of a real player and that will use current CBA information.
More on Entertainment & Sports Law at Miami Law