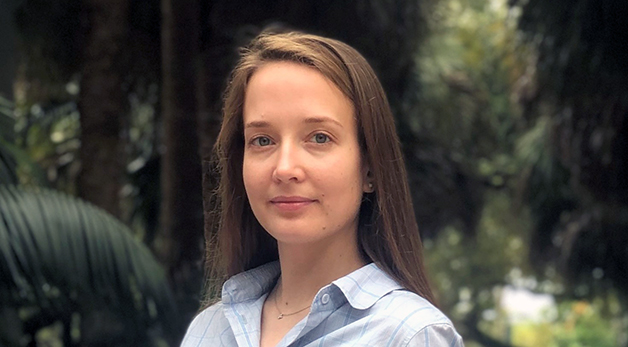 Daria Kuznetsova
Russian lawyer Daria Kuznetsova is the recipient of the White & Case/Carolyn B. Lamm Scholarship, allowing her to pursue her LL.M. degree in International Arbitration at Miami Law.
The White & Case/Carolyn B. Lamm Scholarship was established in 2014 by the law firm in honor of White & Case partner Carolyn B. Lamm, an alumna and Distinguished Faculty Chair of the White & Case International Arbitration LL.M.
"I honestly felt scared to apply to White & Case International Arbitration LL.M Program," explained Kuznetsova. "This was because I thought it would be impossible to get any of the available scholarships. So when I learned that I was awarded the scholarship, the obvious feeling was pure happiness. I could not be more pleased and honored to be the recipient of the scholarship, and I am sincerely thankful to both Carolyn Lamm and UM for investing in me."
After receiving her Bachelor and Master of Law degrees from Lomonosov Moscow State University in Russia, Kuznetsova worked as an Associate with Freshfields Bruckhaus Deringer in Moscow, where she represented major companies in commercial and investor-state arbitrations.
The White & Case International Arbitration LL.M. Program provides a unique individualized educational opportunity for a small group of top-quality students from a range of countries, wishing to acquire an in-depth grounding in the field of international arbitration as a platform for a successful career. The program - the only one of its kind in the United States - is open to U.S. and foreign-trained law graduates, and is ideal for newcomers to the field or experienced practitioners looking to enrich their skills and knowledge.
"The program is very appealing," said Kuznetsova. "We have a one-of-a-kind opportunity to learn from the biggest names in the field of arbitration, including Carolyn Lamm, Rudolf Dolzer, Albert Jan van den Berg, Luke Sobota, and many others. Because of a limited number of students in the classes, sustained interactions with the professors make this program unparalleled. From the very first day of studying, students have plunged into the international arbitration community – undoubtedly important for the transition to arbitration practice."
Once Kuznetsova completes her LL.M. degree in May 2020, she plans to sit for the New York Bar and stay in the United States for one year of practical training.
"I am thrilled to display in practice the experience and knowledge in international arbitration that I acquired at Miami Law."
Read more about the White & Case International Arbitration LL.M. Program