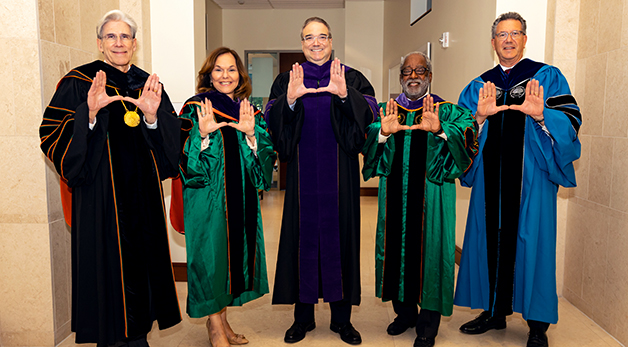 University of Miami President Julio Frenk; Chair of the Board of Trustees, Hilarie Bass, J.D. '81; Dean Anthony E. Varona; Board of Trustees member H.T. Smith, J.D. '73; University of Miami Executive Vice President for Academic Affairs & Provost, Jeffrey Duerk
The thread of diversity and inclusion wove through the investiture on December 9, 2019 of Miami Law Dean Anthony E. Varona as the M. Minnette Massey Chair.
The Massey Chair was established to honor the late, former Acting Dean who was one of the "First Wave," the fourteen female pioneers who forged their way into the male-dominated world of American law school faculties in the 1950s. Despite her "Acting" title, Massey was only the second woman in the country to serve as dean of a law school, from 1962-1965. Massey, who served a half-century on the Miami faculty, was both an early adopter of diversity as an institutional goal, and the undisputed champion of civil procedure as an academic inquiry. As both a professor and an administrator, she was a force to be reckoned with.
Board of Trustees member
H.T. Smith, J.D. '73
, was among the first Black law students to attend Miami Law and spoke of the ways in which Massey supported him and racial diversity at the Law School. At the investiture, Smith connected his mentor, Massey, to the future journey of the law school.
"You are, sir, heir to a great legacy," Smith told Varona, who joined Miami Law as its 12th dean after a storied academic and administrative career at American University Washington College of Law. "Please honor Minnette's legacy by continuing to be a champion for true equality and a leader who cherishes excellence."
Chair of the Board of Trustees, Hilarie Bass, J.D. '81, spoke of the women of Massey's generation who paved the road that led to many of Bass's successes: the first woman to lead an international law firm and a past president of the American Bar Association.
"Dean Varona, we are here to support you," Bass said. "We are so excited to help you implement your vision and we are thrilled that you are a member of our University of Miami Law School community."
When the Cuban-born Varona took to the podium, he congratulated the University on the legions of women in leadership positions today and connected it back to Massey's legacy.
"Minnette Massey's legendary trailblazing and the values that she held so dear and started rooting in the Miami Law soil over five decades ago are in full bloom and bearing fruit today at Miami Law in ways that I am sure would make Dean Massey very proud," he said before announcing that he and his husband, John Gill, personally pledged $100,000 to support student scholarships and faculty development.
He ended by vowing to "work as hard as I possibly can to do justice to Minnette's memory in partnership with all of you to build upon her extraordinary legacy. Thanks to everyone in this room, Miami Law's future is a bright one. So, I say, Adelante! And thank you."
The Massey Chair was established through the generosity of a consortium of Miami Law alumni and friends, and by a lead gift from the late Lawrence B. Rodgers, J.D. '67. The first Massey chair holder was constitutional and administrative law scholar Professor Charlton Copeland. Going forward, and thanks to Dean Emerita and Professor of Law Patricia White's commitment to honoring M. Minnette Massey's legacy by linking the chair to the Miami Law deanship, all future deans of Miami Law will hold the Massey chair during their decanal tenures.
President Frenk closed the installation event by calling Varona "a shining example of the values that Professor Massey held so dearly."
Watch the investiture ceremony here.