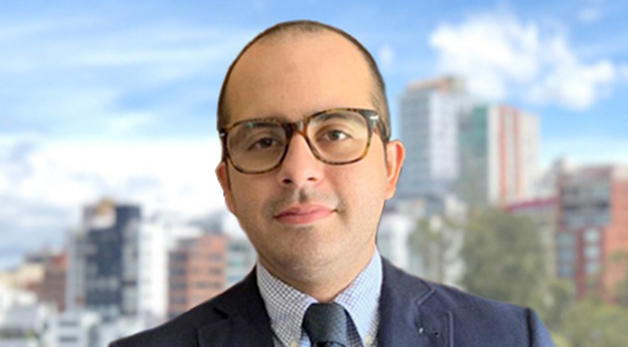 Edgar Andres Bustamante Sierra
Edgar Andres Bustamante Sierra has been named the 2019-2020 Young ICCA Full-tuition Scholarship winner.
Prior to attending Miami Law and pursuing his LL.M. in the White & Case International Arbitration Program, Bustamente Sierra worked as a Senior Associate in a law firm in Quito, Ecuador. There he conducted research and drafted a wide variety of legal documents for complex disputes arising from oil and mining projects, commercial arbitration, mergers and acquisitions, banking and financial matters and antitrust matters.
He received his LL.M. in International Business Law from ESADE in Barcelona, Spain and his Bachelor of Laws from the Catholic University of Guayaquil.
"I was really excited to learn I had been awarded the scholarship," said Bustamante Sierra. "This opportunity seemed just right, plus I've always felt a close bond to both the city and the university."
The Young ICCA scholarship winner is chosen on the basis of an essay competition. Bustamante Sierra wrote on "Ecuador and the New Arbitration Landscape."
"The essay introduces socio-political conditions that affected the practice of international investment arbitration in Ecuador in the last decade," said Bustamante Sierra. "Further, it touches upon the most relevant highlights of the new investment and arbitration legislation and finishes with an opinion on the future of the practice." 
Miami Law partnered with the Young International Council for International Arbitration to launch this scholarship in 2012 as Young ICCA is a world-wide arbitration knowledge network for young practitioners and students, which aims to promote the use of arbitration by exposing new practitioners from all corners of the globe to the international practice of arbitration.
Previous winners of the Young ICCA Scholarship, who hailed from Bangladesh, Canada, India, Italy, Ukraine, the United Kingdom, and Venezuela, have found trainee positions and permanent placements with White & Case in Washington, D.C.; Three Crowns in Washington, D.C.; Hanotiau & van den Berg in Brussels, Belgium; Reed Smith (formerly Astigarraga Davis) in Miami, Florida; the International Centre for Settlement of Investment Disputes (ICSID) in Washington, D.C.; and Bacardi Martini in Miami, Florida.
"I'm grateful to be here," said Bustamante Sierra. "I've met various prominent professionals and people that I now call friends. Also, the University gives me the opportunity to engage in forward-thinking discussions about arbitration and the new economy – something that is quite difficult to achieve anywhere else."
Bustamante Sierra is looking to work in the United States after he graduates with his LL.M., and then eventually return to Ecuador where he expects "to ride the arbitration wave" that he discusses in his article.
More on the White & Case International Arbitration LL.M. Program