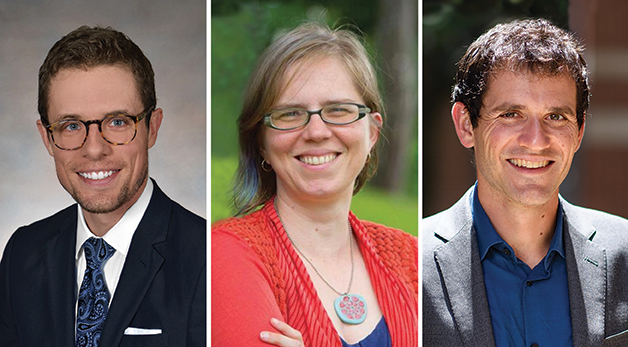 Professors John Mark Newman, Jessica Owley and Gabriel Scheffler
Three new professors have joined the faculty of Miami Law: John Mark Newman, an expert in antitrust; Jessica Owley, an environmental law and land conservation guru; and Gabriel Scheffler, prominent in the fields of health law and policy, and occupational regulation.
John Mark Newman
Newman, the incoming antitrust professor, possesses the gift -- some would say power – to explain very complicated and nuanced subjects in a form that most anyone can grasp as evidenced in a recent TEDx talk about the dark side of apps.
Newman received his J.D. with highest distinction from the University of Iowa before moving to Washington, D.C., serving as an honors program trial attorney with the U.S. Department of Justice Antitrust Division. While there, his primary focus involved civil antitrust litigation, analyzing the competitive effects of mergers and acquisitions, and investigating potential antitrust conduct violations. He also maintained an active pro bono practice, representing low-income tenants in litigation and alternative dispute resolution.
Newman comes to Miami Law from the University of Memphis School of Law where, as an assistant professor of law, he specialized in the economics and regulation of digital markets and platforms, with a particular interest in antitrust, contract law, and intellectual property issues.
"I'm so excited to have the chance to work with Miami Law's rockstar colleagues, teach our amazing students, and become part of this storied institution," Newman says. "I'd love to complete a book project over the next few years, although I'm not sure anyone still reads books these days."
Jessica Owley
Owley comes to Miami Law to teach property, environmental law, and policy, and use her bully pulpit to effect forward movement on climate change, sustainability, and land conservation.
She arrived at law after first embracing the good fight of environmental exploration, as a graduate instructor at the University of California, Berkeley, while obtaining twin master's degrees in environmental science, policy, and management as well as in landscape architecture in environmental planning. She ran the non-profit, the Spoonbill Action Voluntary Echo, which focused on preserving fragile ecosystems and offering alternative development proposals in coastal Taiwan. Years before that, Owley had received a bachelor of arts in physics from Wellesley College, interned at the Wisconsin Department of Public Works, and moved to Atlanta for a year with AmeriCorps.
She took a turn at an assistant law professor at Pace Law School, in White Plains, New York, before joining SUNY Buffalo Law School rising to professor and director of the environmental program, co-director of the environmental LL.M., as well as teaching an environmental law course for business lawyers at the Universidad Pontifica Comillas, in Madrid, Spain. 
At Miami Law, Owley wants to bring front line experiences to her students, like taking them to the United Nations Framework Convention on Climate Change, which takes place annually. The next one will be held in Santiago, Chile.
Gabriel Scheffler
Scheffler is Miami Law's newly arrived associate professor of law in the fields of health law and policy, administrative law, and occupational regulation.
Before Miami Law, Scheffler was a Regulation Fellow at the Penn Program on Regulation at the University of Pennsylvania and a Research Fellow at the Solomon Center for Health Law and Policy at Yale Law School. He is teaching torts in the fall and health law and policy in the spring and will be a guest lecturer at UM's interdisciplinary course on Hospitals, Health Care Services and Access.
"It's important to me to have a career where I feel that I can have a tangible impact on the world, but I also enjoy doing research," he says. "I like thinking deeply about legal and policy questions and writing about them in depth. Teaching at a law school is the best way to combine those two interests."
Another topic that is deeply interesting to Scheffler concerns the impacts of expanding health care coverage, in particular, the effects of the Affordable Care Act. This was the subject of his job market paper, which examined how expanding health insurance coverage indirectly creates pressure to change regulations governing hospitals and doctors.