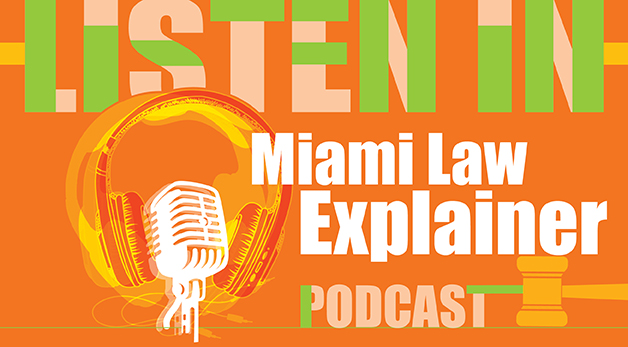 Season three of Miami Law's own podcast, the Miami Law Explainer, returns to the airways on August 16. The weekly show features Miami Law faculty experts giving context, relevance, and significance to compelling and timely headline-grabbing legal issues – from gerrymandering and gun control to Jeff Bezos and children on the border.
Launched in June 2018, the latest season kicks off with Professor John Mark Newman – straight from the TEDx stage – diving the monopolies of big tech, and how antitrust laws can and cannot address the dismantling of and policing of the behemoths Google, Amazon, Apple, and Facebook. 
Over the next 15 episodes, the Explainer will wade into changes in the Endangered Species Act and the LGBTQ movement in the 50 years since Stonewall, as well as keep tabs on cases winding their way to the Supreme Court docket.
Highlights from previous seasons include: Jeff Bezos' Red Line, with Mary Anne Franks, exploring whether American Media's threat to publish  salacious photos of the Amazon and Washington Post owner are journalism or blackmail; Kunal Parker unpacks the brouhaha surrounding ISIS brides' attempts to return to the United States; and Caroline Mala Corbin's look at attempts to overturn Roe v. Wade.
The Explainer can be heard on most podcast providers including iTunes and SoundCloud, where seasons one and two are available for binging. 
Subscribe to the podcast and follow the Explainer on Miami Law's Facebook and Twitter so you'll never miss an episode and join us looking at issues from 3,000 feet to under a microscope.