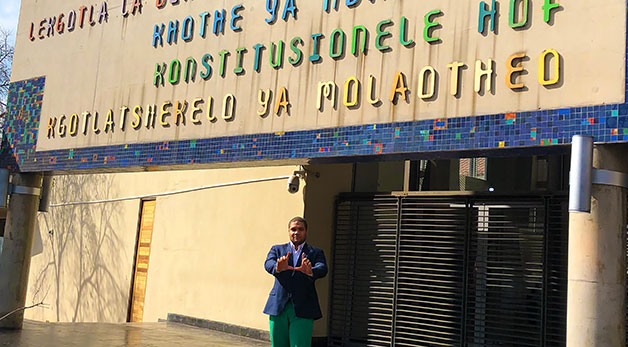 LL.M. Student Mozar Ross in South Africa
International Arbitration LL.M. student Mozar Ross recently arrived in Johannesburg, South Africa, for a nine-month clerkship at the Constitutional Court of South Africa, the country's highest court.
The South Carolina native, who played football for The Citadel, the Military College of South Carolina, attributes his interest in law to his competitive nature from athletics, a curious and intellectual mind, and witnessing as well as experiencing injustice as an African American.
International Arbitration Scholarship Recipient
The International Arbitration Institute scholarship recipient has interned at the United States Court of Federal Claims in Washington, D.C., for former Chief Judge Susan G. Braden; and at the U. S. District Court for the District of South Carolina. He hopes to pursue a career in international arbitration as a platform to create an NGO to address certain human rights and historical injustices. 
"My decision to study international arbitration at the University of Miami School of Law was a good one. My classmates represented nearly every continent, Ross wrote in an email. "They provided an intellectually and comparatively stimulating environment and lifelong friendships. 
Excellent Networking Opportunities
The professors' consideration for students and the networking opportunities really exceeded expectations. 
For example, Professor John Rooney and, the program's director, Sandra Friedrich, made strong efforts to ensure student involvement in conferences and events, providing invaluable opportunities to make connections in hopes of future employment. I presented my work product from international moot court as a writing sample, which helped to secure a clerkship on South Africa's highest court. 
Judicial Clerkship Program Support
"Miami Law's Judicial Clerkship Committee, specifically its director Karen Warren, was integral in my application process for a prestigious clerkship," he wrote.
Miami Law's Judicial Clerkships program provides the resources and support to students and alumni who are interested in pursuing clerkships in state courts, federal courts, and specialty courts. The timing and submission of application materials vary depending on the type of court to which the clerkship candidate is applying. 
Members of the Judicial Clerkships Committee work individually with candidates to help them navigate the rigorous application process, which includes identifying clerkship opportunities, preparing application materials, and conducting practice interviews. Miami Law's Judicial Clerkships program has been successful in placing candidates in clerkships in courts both nationally and internationally.  
Starting Out in South Africa and Role as a Law Clerk
Ross arrived in South Africa in mid-July in preparation for the opening of the court on August 1.
 
"My initial impressions arriving at the airport pertained to the diversity," Ross wrote in an email. "I saw people from China, the Middle East, and from all over the world. In terms of Johannesburg ("Joburg"), I did not expect the affluent areas to rival, or in some instances surpass, those of the States. However, the big economic gap is ubiquitous, which engenders a number of socio-economic issues. 
"Regarding the legal system and the Constitutional Court, they were no startling surprises," Ross wrote. "However, I did not expect the court to be an art exhibit/museum. Tourists visit the court to admire the artwork and Nelson Mandela's legacy. I found it interesting that the courtroom itself is always open, welcoming the public. Regarding the court processes, in comparison to my federal judicial experiences in the States, there is inter-chamber collaboration at the Constitutional Court of South Africa. One chamber does not resolve a case alone, but rather seminars are held to receive input from other chambers."
At the court, Ross will engage similar activities as a law clerk in an American court: assisting the Justice in resolving cases on the docket through legal research, writing, and analysis as well as some administrative tasks.  
Decision to Study LL.M. in International Arbitration
"Miami Law's White & Case International Arbitration LL.M. program initially came on my radar because of [a] push for ethnic diversity within international arbitration," he wrote. "Upon further inspection, I was drawn to the program because of its great value with highly seasoned practitioners as faculty, who teach courses surveying all areas of international commercial and investment arbitration while heading prominent law firms.
"The program's network, relationships, and affiliations with major laws firms moved me to select the program as well. Finally, I selected the program because of scholarships, and its trailblazing and holistic efforts to diversify arbitration, from gender to ethnic to regional diversity," he wrote.
"I believe Miami Law's White & Case International Arbitration LL.M. program has equipped me for a future career in international arbitration. The program has taught me international arbitration, facilitated my international arbitration network and aided me in securing a prestigious clerkship," Ross concluded. 
"I intend to clerk on a United States federal district or circuit court upon returning to the States to further hone my foundational legal skills like legal writing and analysis then join an international arbitration practice group." 
More on the White & Case International Arbitration LL.M. Program