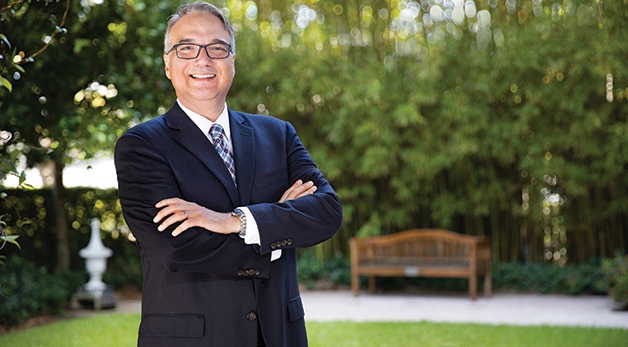 Dean Anthony E. Varona, M. Minnette Massey Professor of Law
Dean Anthony E. Varona has been named the first Dean of the School of Law to hold the M. Minnette Massey Chair. 
The chair was established in 2015 to honor the former acting dean who was one of the "First Wave," the fourteen woman pioneers who elbowed their way into the male-dominated world of American law school professors in the 1950s. Massey was also the second woman in the country to serve as dean of a law school.
"I know that Minnette would be enormously pleased by the selection of Tony Varona as our dean and as holder of her Chair," said Patricia D. White, professor of law and former dean of the law school. "Minnette passed away in 2016, and sadly is not here to celebrate the first Dean to hold the Chair named and endowed in her honor."
Varona is Miami Law's 12th dean and joins the law school after a storied career at American University Washington College of Law, where he established his place as a groundbreaker in the fields of media and sexuality law. At American, he served as faculty advisor to the Latino/a Law Students Association, and the Lambda Law Society. 
"I am honored and humbled to follow in Dean Massey's formidable footsteps," said Varona. "Minnette was a trailblazer and made giant strides in embodying and championing diversity at Miami Law. I am strongly committed to continuing her legacy."
He previously served two years as vice dean at Washington and was associate dean for faculty and academic affairs for six years. Varona has won numerous awards for his teaching and scholarship, including the 2014 American University Outstanding Teaching Award in a Full-Time Appointment. He also has helped plan various national and regional legal scholarship conferences, most recently serving as host/planning committee chair for the Fourth National People of Color Legal Scholarship Conference in March 2019, thought to be the largest gathering of minority law scholars ever to take place in the United States. 
The Boston College, Boston College Law School, and Georgetown University Law Center grad spent nearly five years as chief counsel and then general counsel and legal director for the Human Rights Campaign, the nation's largest LGBTQ civil rights organization. He represented HRC and the HRC Foundation in various coalition workgroups, including the Leadership Conference on Civil Rights judicial nominations task force. Varona has served on the national boards of directors of HRC and the Gay and Lesbian Alliance Against Defamation and currently serves on the board of the Stonewall National Museum and Archives.
Born in Cuba, Varona left the island with his mother and grandparents at age 3, living for a short time in Spain before the family reunited with his father in Newark, New Jersey. He has family in South Florida, and with his husband, John Gill, an internet communications expert, has had a second home in South Florida for eight years. 
Massey, who served a half-century on the faculty, was an early adopter of diversity, and the undisputed queen of civil procedure. She first arrived at the University of Miami in 1944 as a freshman, class of 1948. She graduated from Miami Law in 1951, and joined the faculty in 1958, while simultaneously earning an LL.M. as a Kenison Fellow at New York University.
Massey began teaching legal research as an assistant law librarian, but rapidly asserted her dominance in the machinations of Florida civil procedure.
She caught the attention of U.S. Supreme Court Justices Hugo Black and William O. Douglas, who admired her dazzling intellect and skills as a raconteur. Think Shirley MacLaine, only loads smarter. She ascended to assistant dean, then first woman dean, all the while imprinting armies of young lawyers as masters of the intricacies of litigation and the rightful leaders of their profession. She was a force to behold and used her powers to lead the law school into the integration of both the faculty and student body.
The Massey Chair was established through the generosity of a consortium of Miami Law alumni and friends, and by a lead gift from the late Lawrence B. Rodgers, J.D. '67.