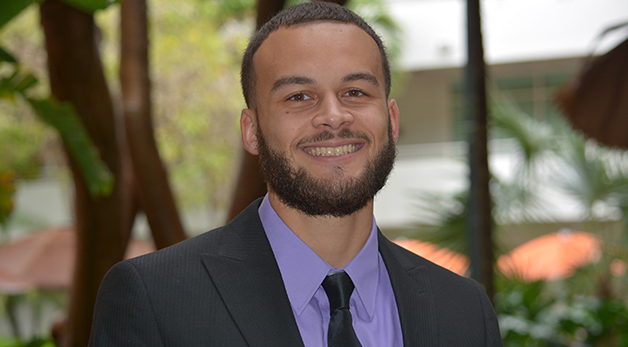 Kalen Nehler
2L Kalen Nehler recently completed his summer internship in LSGMI's Health and Income Maintenance Unit where he served as a Summer Public Interest Fellow. The Health and Income Maintenance Unit works to ensure that individuals and families have access to benefits that promote stability, such as food stamps, cash assistance, social security disability benefits, and Medicaid coverage. SPIF, a summer public interest fellowship program run by the HOPE Public Interest Resource Center, provides a stipend, support, and a 3-credit course to rising 2Ls to enable them to take unpaid internships at non-profit and governmental agencies in the Miami area. 
Q: Why did you choose to spend your summer working with LSGMI through the SPIF Program?
A:  I wanted to spend the summer working in the public interest field and with the great work LSGMI does in assisting the indigent population in the Miami area with civil issues, it was a perfect fit. The SPIF program was able to assist in making the internship possible and provide me with an impactful summer.
Q: Tell us about the work you performed this summer.
A: I was able to conduct research and draft legal memos for my supervising staff attorneys on a wide array of matters ranging from issues with public assistance programs to issues regarding access to a free appropriate public-school education. I conducted intake interviews with potential clients, and drafted petitions for name and gender marker changes for clients. 
Q: What was the most challenging part of your work? What was the most rewarding?
 A: The most challenging aspect of my summer was the first-hand realization of the struggles that face the indigent population of Miami. Low-income individuals and families face daily challenges that often stem from an entity of power taking advantage of them because they do not have access to the resources needed to protect themselves. The most rewarding aspect of my summer was providing that assistance that many of LSGMI's clients need and deserve.  
Q: What experience at Miami Law best prepared you for your internship?
A: As a 1L, I volunteered with AI Justice's immigration legal screening clinics which take place on Saturday mornings. Conducting intakes at these clinics during the school year helped me gain an understanding of how to effectively conduct intakes when I got to my summer placement with LSGMI. The SPIF orientation also helped me form a concrete idea of the work that my summer may consist of, as well as how to be prepared for my first legal internship.
Q: How has the SPIF Fellowship impacted your career trajectory?
A: With a public interest career already in mind, the SPIF Fellowship allowed me to spend the summer working in the social justice field, which reinforced my idea that I want to dedicate my career to those most in need.
Q: What student organizations, clinics, externships, etc. do you plan to participate in the school year?
A: I plan on participating in BLSA, the Public Interest Network, as well as an externship with Florida Justice Institute in the fall semester. PIN pairs incoming 1L students interested in public service and pro bono with an upper-class student who has already gained experience in that area. I am looking forward to being in a position where I can pass on some of the assistance that I received my first year to assist an incoming 1L student with anything he or she might need throughout the year. 
A career goal of mine is to be an advocate for civil rights and racial justice. With the impact litigation FJI conducts regarding prisoners' rights, prison conditions, and police accountability, I am very excited to have the opportunity to gain hands-on practical experience in this field and learn from the incredible attorneys at FJI.