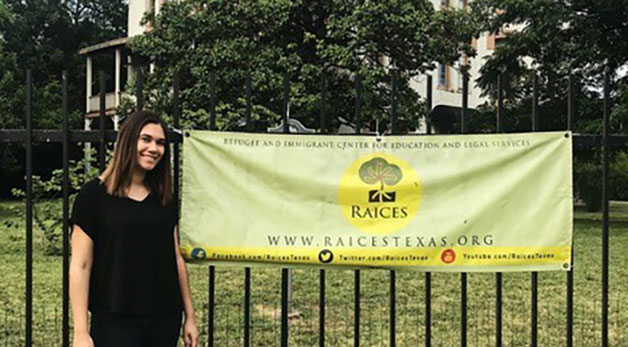 Katy Gomez, 2L
2L Miami Scholar Katy Gomez came to Miami Law to become an immigration advocate. The decision of where she wanted to spend her first legal internship was easy: on the Texas border working directly on the front lines to advocate for individuals seeking asylum. She was thrilled to receive an offer from RAICES, a nonprofit that serves immigrant children, families, and refugees in Central and South Texas. She packed her bags the morning after her last final and drove to San Antonio, Texas for what was sure to be a heart-wrenching yet deeply rewarding experience. 
Q: Tell us about the work you did this summer.
A: I spent the summer working with RAICES' Family Detention Services program at Karnes County Residential Center. When the program first started, families were detained at Karnes, but currently, only women are being detained there. My supervising attorneys and I met with women who were either waiting for their Credible Fear Interview (one of the first steps in seeking asylum) or after they received a negative finding of fear from the Asylum Office and they were waiting for an Immigration Judge to review the Asylum Office's decision. We worked with the women to prepare them for those interviews and court appearances so that they could present their strongest case possible. 
We also helped women who received a negative fear finding file a Request for Reconsideration (RFR) with the Asylum Office, asking for either a positive finding of fear or a new Credible Fear Interview. Most clients felt that they could not fully tell their story at the first interview so we helped them document their full story through written declarations and prepared them to testify. I was also able to advocate for two clients in Immigration Court and the Judge vacated their negative fear findings.
The sad truth is that many women are fleeing violence that the U.S. government does not deem "asylum-worthy," and are ultimately deported back to their home country. If a woman's RFR is denied, we gave information to the women on how to prepare to be deported, which includes calling their family back home so they can have a plan for when they return.
Q: Why did you choose to spend your summer working with RAICES?
A: I chose to spend my summer working with RAICES because I felt that was where my help was most needed given the current political environment. Karnes is about an hour and a half away from San Antonio, strategically placed so that it is difficult for family members and attorneys to visit. 
RAICES is one of the only organizations who goes to Karnes every day – they are there from early in the morning until they're kicked out of visitation at the end of the day, providing pro bono legal services to the detained women. There was really no other option for me. I knew that I had to be where I was most needed – directly on the border advocating for women seeking asylum in this country.

Q: What has been most challenging? Most rewarding?
A: The most challenging, and heartbreaking, part of my internship was having to tell a woman that her RFR had been denied. To hear a woman cry and beg you to do something and tell you that she will be killed if she goes back to her home country when there is nothing further you can do was the worst moment. I wanted to scream, "I believe you. I know. I hate this too!" Instead, I sat with the women, heard them out, and tried to prepare them for their next steps.
The most rewarding for me was the simple gratitude from the women detained at Karnes. When I met with women after they received their negative fear finding, they usually told me how they weren't able to tell their full story to the Asylum Officer because they kept getting cut off. They were so thankful when I just let them tell their story, no interruptions, and no questions. Just feeling like someone is listening meant the world to them. That means the world to me - that just listening can help them in some way.
Q: What experience at Miami Law best prepared you for your internship?
A: During spring break my 1L year, I participated in a Legal Advocacy Alternative Spring Break program with two other Miami Scholars at Texas Civil Rights Project in Alamo, Texas. The work was amazing and we were able to assist on their litigation efforts challenging recent immigration changes. 
To get direct service experience as well, the three of us left TCRP at the end of each day and headed directly to a respite center, where newly released immigrants were often sent. For the first time in a while, these individuals were getting a hot shower, hot meal, and clean clothes. That was the first time I heard first-hand stories of the hielera (icebox) which is what people call the initial processing centers because of the horrible conditions. 
With RAICES, I heard horrifying stories of what these women experienced at those hieleras. The conditions are truly disgusting. In a way, hearing these stories from immigrant children during spring break prepared me for the stories I would end up hearing this summer. It didn't necessarily make it easier, but I at least had already experienced the initial shock. 
 
Q: How has this summer impacted your career trajectory?
A: Before this summer, I wasn't 100% sure about going into nonprofit work. I was worried about burning out and the workload. Working with the team at RAICES showed me how important it is to have great coworkers in this line of work. 
The work they do is so hard, but they're always having mental health check-ins with each other. I realized that THAT is what keeps you from burning out. As long as there is immigrant detention in this country, the work is always going to be hard. You just have to find a team that looks out for each other.
I also realized this summer that I'd be doing a disservice to the immigrant community if I chose to do anything but nonprofit work. 
Q: What student organizations, clinics, externships, etc. do you plan to participate in the next school year?
A: Next year I'll be participating in the Immigration Clinic and I'll also be the Secretary of Immigration Students Law Association.