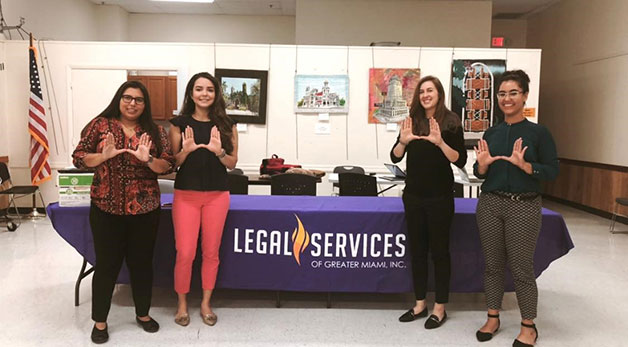 Anjoly Ibrahim, Tiffany Hornback, Katherine Black and Hannah Gordon
Miami Law students have many choices about how to use their Spring Break, including spending the week immersed in advocacy on behalf of agencies near and far.  Thanks to funding from Miami Law's Law Activity Fee Allocation Committee, generous donors and fundraising events throughout the year, HOPE expanded the Legal Advocacy Alternative Spring Break trips in 2019.
Eleven students spent the week making an impact in the Florida Keys, McAllen, Texas, and in Durham, North Carolina. These students dedicated themselves to full-time work, building invaluable practical and transferrable skills, while learning about an area of practice, expanding their network and giving back to marginalized and vulnerable communities. 
Disaster Relief in the Florida Keys
1L Miami Scholars Anjoly Ibrahim, Tiffany Hornback, 2L Miami Scholar Hannah Gordon, and 1L Katherine Black, spent the break volunteering with Legal Services of Greater Miami in the Florida Keys. LSGMI is one of the only providers of civil legal services for the Keys, a community still recovering from the devastation of Hurricane Irma. To make legal assistance accessible, LSGMI set-up roving clinics throughout the Keys for the week.  
After two days of training, the students drove south and assisted LSGMI in providing legal services at pop-up clinics in Key Largo, Marathon, and Key West.   
"This trip allowed me to provide legal access for low-income individuals while getting to know more of the South Florida community. It was an incredibly positive experience and I am thankful to HOPE and LSGMI for providing this opportunity," said Gordon. 
Black also enjoyed her experience. "Participating in the Keys alternative spring break trip allowed us the privilege of helping South Floridians up and down Monroe County alongside LSGMI and some wonderful pro bono attorneys. The opportunity to break out of the traditional law school curriculum to use the skills we've learned to help make an impact, particularly on low-income clients in need, was an incredible experience. I couldn't have asked for a better break." 
Immigration Advocacy at the Border
1L Miami Scholars Meredith Hoffman, Katarina Gomez, and Sara Hastings flew to McAllen, Texas to volunteer with the Texas Civil Rights Project to help address pressing issues facing immigrants at the border. 
"In McAllen, a sleepy town just several miles north of Mexico, TCRP works holding the U.S. government accountable on its largely unchecked immigration enforcement powers, along with a host of other policies impacting border communities," said Hoffman. "As volunteers, we assisted TCRP's efforts on a range of these issues, including the government's border wall plans and Border Patrol policies." 
Students were able to witness first-hand what they have been reading in the headlines as they accompanied supervising attorneys to the federal courthouse where immigrants who had crossed the border were being criminally prosecuted. 
"Though the administration has officially ended family separation, it may still prosecute (and therefore separate from their children) parents who have any criminal record—which includes previously crossing the border—and any other adult officials believe may not be the child's parent. Every day, adults are showing up to court after separations," said Hoffman.
Since McAllen is the first stop for many migrants in the U.S., the students spent evenings at Catholic Charities' respite center, where Immigration and Customs Enforcement drops some families off after releasing them from custody. The families, including mothers with small babies, rest on sleeping mats and line up for a meal, shower, toothbrush, and clothing, before boarding buses to other parts of the U.S. to continue their immigration cases.  
Death Penalty Litigation in Durham, North Carolina
Four 1L Miami Scholars, Brittany Frizzelle, Sarah Lilly, Lindsey Johnson, and Gideon Levy traveled to Durham, North Carolina where they worked with the Center for Death Penalty Litigation. 
"CDPL is one of the leading organizations combatting the death penalty, both locally in Durham, NC, as well as across the nation," said Levy. "They work with clients at the trial, appellate, and post-conviction stage, and have a strong role in policy. 
"Our shared work came by way of interviewing previously struck jurors in an effort to help shed light on an urgent issue of racial injustice in Durham - Black jurors are 2.6 times more likely to be struck than White jurors. This is especially disturbing given the well-established racial disparities seen in sentencing for capital crimes."
The students were all able to build valuable skills and make a contribution by conducting legal research and analysis. 
"From combing over text messages, documenting evidence, and researching case law, we all gained practical skills that left us feeling prepared for our upcoming summer work and purposeful as we start to assess our preferred career paths," said Levy. "One big takeaway for all of us was the reassurance that, although there is much injustice, there are a lot of committed and inspiring leaders in this fight that we can rely on and learn from." 
Fall, winter and spring breaks are a great time to participate in an alternative break. If you would like to help plan next year's opportunities, please email HOPE at umhope@law.miami.edu.
---
Read About Past Alternative Spring Breaks:
From The Keys to FL Farmland – Spring Breakers Provide Legal Assistance to Hurricane Afflicted Communities
In Mississippi and Locally, Miami Law Students Give Back During Spring Break
Alternative Spring Break Exposes Students to Lawyering in Action
Law Students Give Up Spring Break to Help Undocumented Immigrants Apply for Special Status
Students Kick Off Spring Break by Volunteering Trilingual Tax Assistance