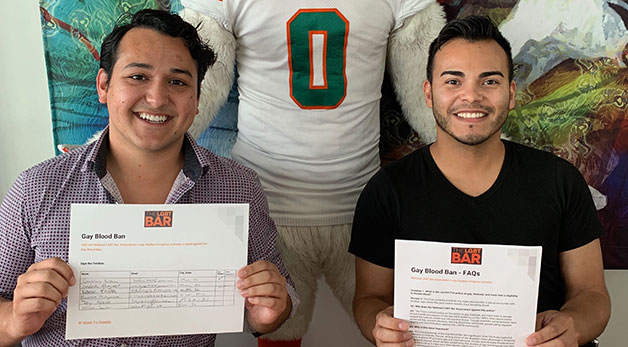 Throughout its history, OUTLaw has succeeded in creating visible spaces for Miami Law's LGBTQ+ students and allies, and this past year the student organization has made significant impacts.
"This year, OUTLaw has been the leading student organization on the Miami Law campus," said Amelia Daynes, second-year law student and incoming OUTLaw president. "OUTLaw was instrumental both in planning its own events on various intersections of LGBTQ issues, identities, and the law.
Pride Parade Participation
In collaboration with the University of Miami LGBT Student Center, OUTLaw ended the school year with an annual Pride Picnic which took place immediately following the Miami Beach Pride Parade. 
Each year the University of Miami walks in the parade as a signal to the community that UM is a place of inclusion and acceptance. The idea behind the picnic came to Candelario Saldana after being elected as OUTLaw's social chair at the end of his first year in law school. 
Daynes adds, "OUTLaw was also outstanding in its support of other organizations, helping put on even more programming relevant to the queer community and queer experience while standing in solidarity with other affinity groups and student groups working for greater justice for all." 
Expanding Its Network & Working to End Blood Ban
The student organization has also created a network in the greater Miami community and nationally becoming an affiliate of the National LGBT Bar Association after which OUTLaw students began collecting signatures at GenderChill, GradOUT's queer fashion show. The goal is to support the National LGBT Bar Association's petition to end the gay blood ban. 
The FDA's ban doesn't allow men who have had sex with other men in a twelve-month span to donate blood. Saldana recently wrote about the discriminatory effect of the FDA's Ban on homosexual blood donations on the LGBTQ+ community in the wake of countless American tragedies, in a blog post titled "Another Tragedy Reminds us that the LGBTQ+ Community Continues to be Discriminated: A Call to Completely End the FDA's Ban on Homosexual Blood Donations," which was published by Miami Law's Race and Social Justice Law Review. 
Lavender Law Career Fair
However, although the school year is over, OUTLaw students will continue to be involved over the summer as they once more participate in the National LGBT Bar Association Conference and Career Fair, also known as Lavender Law. Over several years, Miami Law, through funding from the Law Activity Fee Allocation Committee, has been able to send students to participate in Lavender Law. For example, after attending Lavender Law in San Francisco during the summer of 2017 Saldana secured a summer associate position with Cadwalader, Wickersham, & Taft and will be joining the firm as an associate in their Capital Markets group at their Charlotte, North Carolina office. 
Thanks to the generous donations of community members and legal professionals, OUTLaw has been able to send students to Lavender Law. Last year through the efforts of alumnus Brian Adler, a partner at Bilzin Sumberg (who also hosts OUTLaw's annual Professional Mentorship Event every fall semester bringing together over 100 students and legal professionals to create lasting mentorship relationships), OUTLaw was able to send six students.
In addition to the six students, Saldana also attended after receiving first runner-up for the Michael Greenberg Student Writing Competition for his note titled "Queering the Dream—The Impact Trump's Decision has on LGBTQ+ Dreamers and the inability to Attain Asylum." This year Brian Adler and Saldana helped establish the Lavender Law Fund at the University of Miami School of Law to ensure that no student is unable to attend Lavender Law due to the lack of funds. Saldana set a goal of raising $10,000 for the fund, and thanks to legal professionals, community members, and close friends he's only $500 away from his goal. 
"The work that OUTLaw is doing puts our law school at the forefront of leaders in LGBTQ+ issues," Saldana said. "We have a network that allows us to ensure that we can continue doing this important work, in hopes that other law schools will follow, so that every law student in the nation can feel free to be their true self and feel safe at the same time."