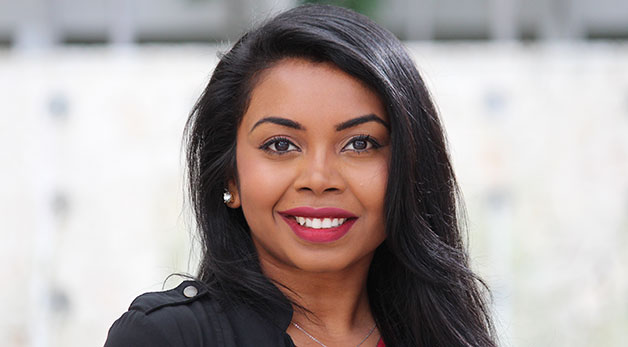 Sanjana Palla, 3L
Sanjana Palla is fierce, and she comes from ferocious.
Her mother, Prasanna, made the decision to uproot her daughter and husband from their home in Hyderabad, a tech hub in south-central India, to come to the United States seeking a better education and wider opportunity for their 6-year-old daughter. 
The family landed in Houston, Texas, three months before 9/11 and at the height of the dot com bust.
"My mother is the definition of a self-made woman," says Palla. "She is now a successful senior tech consultant and conquered a male-dominated industry as a foreign woman. She never gave up. If I become 1/10 the woman she is, I will consider myself a success."
Palla is no slouch in the accomplishments sector: the 2019 commencement speaker, graduating with a concentration in the business of innovation, law, and technology, speaks five languages, was recently named Outstanding 3L by HOPE for having the greatest number of pro bono hours, and is a Deans Merit and Judge Henry Balaban Endowed Memorial Scholarship recipient. She was also president of Miami Law Women and national vice president of the North American South Asian Law Students Association. 
Palla grew up with her feet in two worlds: Houston had a robust Indian community (three radio stations broadcast in her native Telugu) and she danced on a competitive bhangra team during college at the University of Texas at Austin while working as a fellow for Battleground Texas, a political action committee focused on swinging the red state purple.
Her undergraduate studies started in tech but pivoted to business per her mother's advice, reasoning that understanding another facet of the corporate galaxy would be beneficial.
"I started off like every other Indian kid wanting to go to med school," the 24-year-old says. "I realized that is not my passion; I love politics and government and the idea that a law degree can make such a huge impact on society. 
"I came to Miami Law because the programs, clinics, and the practicums are phenomenal. I want to be involved in educational reform policy and women's empowerment initiatives." 
Over the past three years, Palla was a research assistant to Professor Mary Anne Franks' Cyber Civil Rights Initiative tracking civil, criminal, domestic, and international legislative reform related to nonconsensual pornography and cyber sexual harassment and to Professor Drew Dawson, delving into bankruptcy proceedings and law and comparing state and foreign bankruptcy codes. 
Palla is also a member of the Startup Practicum led by Professor Dan Ravicher and hopes to further her career in startup/business law. She also interned at Bacardi Ltd., the City of Houston General Counsel, and the federal public defender for the Southern District of Florida.
Of all the experiences, her work with Franks was the most transformative. "I've worked with Dr. Franks for the majority of my law school career. I aspire to be like her," Palla says.  "She even helped prep me to appear on "Real America with Jorge Ramos" to comment on the Kavanagh hearings.  
Palla says Miami Law permanently changed her as she sets off on the next chapter of her life.
"I am so grateful to the school because the environment here allows every student to thrive," she said. "It isn't like a typical law school experience where it is everyone for themselves; the camaraderie cultivated by of the faculty and the deans really show in our classroom engagements. 
"I have achieved well beyond my wildest dream and stand with all the necessary tools to make a difference in this community, in this country, and this world."