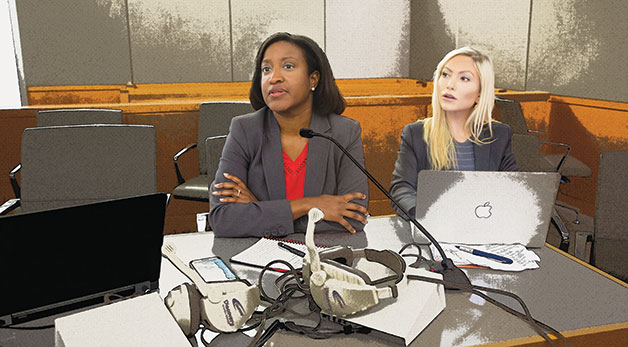 Professor Kele Stewart and student Kacie Hillsman
Their clients would probably agree. They don't wear capes, but to the people they represent, the students and attorneys in Miami Law's legal clinic programs are heroes—defending vulnerable children and seniors, the poor, the needy, the wrongly accused. They step in where others won't, asking for nothing in return but the chance to help. Their reward, as students, is an unparalleled real-world experience.
"It very much is this scary but exciting, a little overwhelming, experience," says Kamal Gray, a 3L in the Health Rights Clinic this past summer. "You realize what an impact you're going to be having on this person's life. And it's a bit overwhelming, especially when you see how much suffering a lot of these people are going through and you realize that for some of them this may be the last chance that they have to get whatever benefit they need or whatever services they need.
"And it just makes you very nervous when you realize that it's up to you, essentially, to fix this."
Since the first one opened its doors in a cramped, off-campus office 22 years ago, the school's clinic offerings have grown to 11 separate and widely diverse programs covering a range of areas of practice and serving an equally broad spectrum of clients. The various programs now include the original one, the Children and Youth Law Clinic, plus a family of new ones: Bankruptcy Assistance, Environmental Justice, Federal Appellate, Health Rights, Human Rights, Immigration, Innocence, Investor Rights, Tenants' Rights, and the newest, an innovative Startup Practicum aimed at helping fledgling companies get off the ground.
Striving Together for Social Justice
As different as their specialties and the people they serve are, the clinics share a common theme: social justice, built on a three-pronged philosophy of empowerment aimed at students, clients, and communities.
They've stood up for seniors who've lost their life savings through broker misconduct, for residents subjected to toxic waste in Coconut Grove and Dunbar, Florida and won the right for more than 158,000 disabled Floridians to receive food assistance after Hurricane Irma.
"All of our clinics are meeting a critical need in our community. There really are so few free lawyers in Miami and so many poor and marginalized communities needing legal services," says Kele Stewart, associate dean of Experiential Learning and co-director of the Children and Youth Law Clinic.
Asylum, Deportation—Immigration Clinic Steps In
That means giving a voice to those who otherwise wouldn't have one. Students in the Immigration Clinic, for instance, step in to represent people facing deportation—in an immigration court, the Board of Immigration Appeals, or federal court.
They fought for five years to win asylum for an environmental activist who fled his native Honduras after he was threatened and shot at by corrupt police with ties to the illegal logging industry. Just this last year, the clinic became lead counsel in two federal lawsuits, including a challenge to Miami-Dade's anti-sanctuary city policies and a class action to halt the removal of 92 Somali men and women who were held in shackles for almost two days, including more than 20 hours aboard a failed deportation flight.
Human Rights from U.S. to U.N.
Similarly, the members of the Human Rights Clinic document and draw attention to human rights violations around the world, including within the United States, and advocate on behalf of victims in the areas of gender violence, racial justice, and immigrants' rights.
Their work took them to the United Nations Commission on the Status of Women in 2018, where they helped organize a consultation on the Right to Food and Nutrition for rural women. They also created the COURAGE in Policing Project at Miami Law to combat gender violence and help improve law enforcement efforts in response to domestic violence and sexual assault, with an emphasis on immigrant and disabled women, women of color, LGBTQI individuals, and underserved populations. They hosted a COURAGE community forum and film screening of the documentary Home Truth, about the clinic's client, domestic violence survivor-turned activist Jessica Lenahan (the film premiered on PBS in October 2018).
Elevating Socially-Minded Entrepreneurs
Even the business-oriented Larry Hoffman/Greenberg Traurig Startup Practicum places emphasis on companies with a social entrepreneurship aspect to them, supporting the kind of corporate credo found at places such as TOMS shoes or Warby Parker or Ben & Jerry's that use their for-profit enterprises for philanthropic ends.
One of the practicum's clients, for example, hires autistic adults who might otherwise not be able to find work to make their macaroons, says the director, Daniel Ravicher.
"There are a lot of clinics like mine that just do intellectual property or economic development, or entrepreneurship," he says. "I didn't want to exclude anybody, so it's kind of a broad umbrella. It allows students to come and do whatever they want to pursue."
That means students can get a hefty variety of experience, from organization financing and intellectual property to talent contracting, terms of service, and privacy policy, Ravicher says. "Anything that a startup may need."
First In-House Clinic
That full-service mentality is part of the Miami Law clinic programs' DNA, beginning with its very first one.
The Children and Youth Law Clinic started in January 1996, thanks to a determined 3L student named Carolyn Salisbury, a visionary dean, and a dedicated professor. Salisbury sought and got an Echoing Green fellowship for a project representing older foster youth. Miami Law's dean at the time, Sam Thompson, seized the opportunity to launch the school's first in-house legal clinic. He named Bernard Perlmutter its director, with Salisbury as associate director.
They found their first client on a basketball court. Or, rather, he found them.
Abandoned by his parents and living on the streets, a homeless Haitian teenager who called himself Tyson came under the wing of a local attorney who coached players in a midnight basketball league. He introduced Tyson to the clinic. Several months, motions, and court appearances later, the first group of clinic students resolved the first part of Tyson's needs. They got him into foster care. The next semester's participants tackled the second part. They got him his green card.
It made a difference.
Tyson went on to college. He founded his own IT company and now, more than two decades since he stepped out of the shadows with the clinic's help, runs a nonprofit he started, coaching kids' basketball.
"He is a success story," says Perlmutter, "exactly as the law contemplated."
Since then, the CYLC has assisted better than 1,200 youths and affected the lives of countless thousands more by successfully challenging some of Florida's juvenile-related laws and court practices.
"Our clinic work is not just exposing our students to the impact of the law on our clients," says Perlmutter, "but also changing the law, making the law more humane, more constitutionally welcoming, or sound."
The impact is not limited to one person. Or even to only Florida.
Less than a decade after the clinic opened its doors, Perlmutter and clinic students went before the Florida Supreme Court to argue for the rights of children in the state's juvenile justice system. They won. The court adopted a rule establishing due process protections for children in the custody of the state's Department of Children & Families who are involuntarily committed to psychiatric facilities by that agency, including pre-commitment hearings and the right to counsel.
Then, just four years later, in 2009, the clinic helped overturn what until then was the widespread practice of indiscriminately keeping juvenile offenders in shackles during court appearances.
"It had a long and storied history, that practice," Perlmutter says. "But we worked with the public defender's office in Miami, and ultimately the Florida Supreme Court abolished the practice by creating a rule of court that would require an individualized finding by the juvenile court that a child needed to be restrained in the courtroom."
It changed the way cases were handled for kids in Florida to this day. And it is helping bring change in other states. Perlmutter says he recently got an email from a Miami Law graduate in Texas asking for guidance because that state is now considering a similar ban.
"So the alumni that we oftentimes interact with are our allies in a bigger cause," says Perlmutter.
Questioning the Status Quo and Pushing for Policy Change
The rest of the clinics were born similarly when vision intersected with community need.
"We all strive to teach our students that what you do in the law impacts people every day and for a long time afterwards," says Innocence Clinic Director Craig Trocino. "It impacts people's lives."
All the clinics have three components. There's a classroom element that looks like any other law school class, where students learn the legal foundations of that area of practice. Unlike other classes, though, there's also a skills component where students work with real-world clients with real-world legal issues.
"A key part of our pedagogy is that students take the role as the lead attorney in their cases, with close supervision of course," says Stewart. "We're not just giving them discrete pieces of the case, we're telling them you are the lawyer."
Which means, for the students, stepping into the role of a primary tactician on a case for the very first time. It's a new challenge and a new responsibility.
"They give you a whole case and it's your case," says Elaine Westphal, a 2L who took part in the Innocence Clinic during the summer. "So, instead of being told, 'This is the strategy you're going to take,' you get to look at everything and think about what you think the right move would be."
The third element shared by all the clinics, says Stewart, is a "social justice piece, about ethics, the role of lawyers in the legal system, and changing the system."
That sets Miami Law apart from many other institutions. While most, if not all, law schools offer students a chance to take part in clinics connected with the university or to get a similar experience with a local legal aid office, Miami's clinics stress the importance of questioning the ramifications of the legal status quo—and pushing for change, when needed.
The result, says Teresa Verges, director of the Investor Rights Clinic, is a "transformation" in the way students approach the law.
"From learning how to represent someone to learning how to apply the law in a real situation, then actually taking it that step to think: 'Well, why is it this way and why should it be this way?'" she says. "When those opportunities open up they get a chance to actually take some of the things that they've been doing, some of the cases that they've been working on and use them as a sounding board to explain why we should support a change or why we should advocate for a different change."
That combination of instructional components and hands-on learning makes the clinics a unique part of a law school education, says Environmental Justice Clinic inaugural Mysun Foundation Fellow Daniela Tagtachian.
"You don't have all three in any other experience," she says. "In law school classes you're either covering theory or you're covering how to be a good lawyer. You're not necessarily covering how to be a good lawyer in the social justice context and helping a community with lawyering skills that you actually apply."
How Representing Investors Differs from Externships and Internships
Even internships or externships cannot offer students the same kind of interaction with clients.
"I had been working as an intern at law firms since I was 19," says Ryan Augusta, a 3L who spent the summer in the Investor Rights Clinic, "and this is by far the best experience I've gotten because it's not just, 'Okay, do this and get it back to me'—as in filling out forms or punching in someone's name on an affidavit. It's actually taking point on things which, as an associate out of law school, is something that I'd like to have experience with, so that when it does come time to actually represent a client that's my client, I know what I'm doing."
The Investor Rights Clinic he took part in is the only securities arbitration clinic in the state that offers free assistance to small claim investors, a client base made up of mostly elderly people who have been victims of fraud or suffered losses because of broker misconduct. While the individual claims are too small for them to find private legal representation, they can amount to most or all of that person's life savings.
It adds up. The barely six-year-old clinic reached a milestone in 2018, surpassing the $1 million mark in client recoveries.
Overwhelming Debt—Clinic is a Lifeline
The Eleanor R. Cristol and Judge A. Jay Cristol Bankruptcy Pro Bono Assistance Clinic assists those at the other end of the financial spectrum—people overwhelmed by financial debt. Under the guidance of clinic director Patricia Redmond, J.D. '79, a shareholder at Stearns Weaver Miller Weissler Alhadeff & Sitterson, P.A., and Allison Day, her co-professor, students have helped many debtors work through financial problems and in some cases, file bankruptcy, discharge their debts, and attain a fresh start in their lives. Most importantly, students analyze and understand what caused the clients' bankruptcy situations and advise them on what they should do to prevent similar situations from recurring in the future.
The Responsibility Can Be Intense
Compared to other law school classes, the clinic experience is, in many ways, like the difference between med school and a surgical residency. Including—to push the metaphor—running from operating room to operating room, coping with multiple patients simultaneously, and dealing with everything from bedside manner and pre-op visits with family and other caregivers to maintaining charts and prescribing the proper treatment.
Madison Cherry, for example, took part in the Children and Youth Law Clinic during the summer. She shared responsibility for 38 cases, with matters ranging from immigration to dependency. Individual clients often face multiple issues, including some that have little or nothing to do with the law itself.
"It becomes way more layered," says Cherry. "You go from having to be more of like the therapists who are listening to their issues, to working on their immigration needs. Do they have any issues at school that need to be dealt with?"
Plus, the volume of cases she was assigned to handle gave her an invaluable insider's view of the realities of a young public defender's life—juggling a multitude of cases before different judges. From Day One.
The rewards, though, are immense. And immediate.
"Like when we're working on an immigration case and dealing with naturalization and when the kid actually passes the interview, it feels really good," she says. "It's a nice little reminder of why you want to be a lawyer."
That, says the Innocence Clinic's Trocino, is one aim of the clinics. It's real life, in real time. With very real consequences.
"Students are taking some of what they've learned and they're learning some additional law with us in the clinic," he says, "and they're applying it to an actual human being whose life will be changed either for the better or for the worse based on the work you do."
In the Innocence Clinic that means getting the case of someone who has been wrongly convicted overturned. Their cases often prove that if the wheels of justice turn slowly, the wheels of injustice are slower still. One of their cases involves a man who remains behind bars 20 years after he was arrested for an International House of Pancakes robbery he says he didn't commit. They are seeking DNA retesting they believe will clear a Lake Worth man behind bars since 2009, sentenced to life in prison for murdering an elderly woman.
And, in September, nearly two years after they filed their motion to vacate judgment and sentence, the clinic is scheduled to argue the innocence of a man in prison since 2014 on a 20-year armed robbery conviction, and to present evidence to exonerate him.
Real stakes. Real lives.
"If you want something to put the fear of God into you, walk into court knowing the guy sitting next to you is innocent," says Trocino. "That's the gravity that all the clinics want to present to the students, that this is not just a dry casebook of whether Mrs. Palsgraf fell or not."
Clinic Experience Results in Lasting Effects
Not all the students who participate in clinics will go on to practice in that same area of law. In fact, says Trocino, most probably won't. The experience, though, provides invaluable training nonetheless.
"It's not the most lucrative area of law to be in," he says, "but the things that you learn in our clinics translate very, very well to almost every other area of law that you might want to practice, especially if it's a litigation-oriented practice of law. You know: how to dissect the case, how to build it from the ground up, how to view the facts—even the bad ones—the way to construct your defense or your prosecution if it's a civil thing."
Of course, representing clients with so much at stake also affects students on a fundamental level.
Trocino proudly recalls how he emailed one of his former students, who had graduated, passed the Bar, and gone on to practice insurance defense in Boca Raton, to tell him that a judge had finally ordered an evidentiary hearing on a motion for post-conviction relief the former student had worked on several years before.
"He emailed back immediately," Trocino says, "asking, 'Please can I do the hearing with you?' And I said, 'Absolutely.' So he flew up to Pensacola on his own dime because he was so invested in this case. This client made such an impact on him."
Others show the impact the experience had on them in even more direct ways, passing up careers in private practice to dedicate themselves to the kind of social justice work they did in the clinics.
Stewart says several past members of the Tenants' Rights Clinic took jobs at Legal Services of Greater Miami, Inc. after graduation, continuing to work side-by-side with their former professor, clinic director Jeff Hearne, the senior attorney at the South Florida non-profit.
The Immigration Clinic, says associate director Romy Lerner, has sent alumni into every facet of the area of practice, "on every side. We have students in private immigration, nonprofits, working for the immigration court. There's one that's working for the Department of Homeland Security."
And still others, such as Ryan Foley, J.D. '13, who headed the Veterans Rights Project within the Health Rights Clinic for six years, found a calling in the clinics' work.
"I'm kind of a unique case because I'm an alumnus of the clinic that I worked in," he says. "I don't expect everybody to want to do the same thing, but I just became so passionate about the work that I wanted to find a way to continue doing it. So both me and the other two attorneys that I've worked with in the clinic were alumni of the Health Rights Clinic and wanted to continue to work with the veteran population."
Empowering Communities
The clinics are for the students and for the clients, of course. But they also strive to effect lasting change in the communities they serve.
"We're also thinking about how we use this process to empower the community," says Natalie Barefoot, associate director of the Environmental Justice Clinic. "What do we do to help make sure that they're stronger after they've been through this process, so that down the line when things happen, they're empowered and able to participate meaningfully in processes that they've been excluded from?"
Her clinic is different from the others in that it primarily serves communities, as opposed to a specific individual. With a focus on low- and moderate-income neighborhoods, students direct their attention to problems involving housing and transportation as well as pollution. Their cases have included a class action lawsuit seeking damages for residents of Coconut Grove Village West, a historically segregated area subjected to ash and toxic fumes from a City of Miami incinerator for more than four decades.
The clinic's efforts are not limited to South Florida. Students work with residents of a predominantly African-American neighborhood in Fort Myers, on Florida's west coast, and local attorneys to address concerns about carcinogenic toxins caused by decades of dumping lime sludge from the city's wastewater treatment plant. Their efforts lead to the filing of a class action lawsuit in March 2018, and to the formation of a neighborhood steering committee.
The concept of community activism coupled with legal action is a large part of what attracted Jenny Ledig, J.D. '18 to the EJC.
"The Environmental Justice Clinic model appealed to me in terms of community organizing," she says. "And I'm using a variety of different statutory regimes, applying both federal and local level law to combat problems."
And it also appealed to something deeper, something beyond the application of specific laws, something about the reason that they exist—to provide justice for all.
"I also wanted to have an opportunity to give back in a way that is utilizing my skills as a budding lawyer and what I'm learning in law school to try to help others," Ledig says. "To me, it's a humbling experience. And I think everyone in the clinics, even if they don't wind up working in the public interest sector, will keep those experiences in mind."