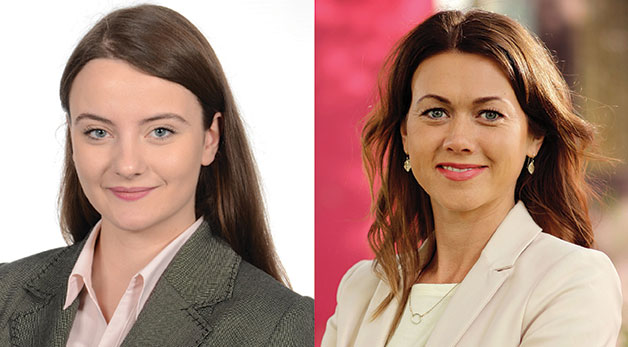 Alba Dushi and Eva Baldursdottir
The prestigious Fulbright Foreign Student Program enables graduate students, young professionals, and artists from abroad to study and conduct research in the United States. Two outstanding Fulbright recipients chose to study their LL.M. degrees with Miami Law.
A native of Kosovo, Alba Dushi received a Fulbright and chose to study at Miami Law for one year, where she will receive an LL.M. degree in International Arbitration this coming May.
"Receiving the Fulbright scholarship was a life-long dream come true," said Dushi. "I felt honored and humbled beyond words." 
Dushi received her Bachelor of Law from the University of Prishtina Faculty of Law, where she participated in the Willem C. Vis International Commercial Arbitration Moot Competition. 
Prior to attending Miami Law, Dushi worked as an Associate with a law firm in Kosovo. She then applied – and received – a Fulbright scholarship, which provides funds for international students to study or conduct research in the United States.
"Miami Law is a world center of arbitration, cultural diversity and opportunity - among many other great things," said Dushi. "The White & Case International Arbitration LL.M. is perfect for any person pursuing a career in arbitration. The lectures are taught by leading professionals whose academic and professional guidance is unmatched. Also, Miami Law gives us the chance to utilize our theoretical knowledge into real life work through externship opportunities in some of the leading law firms here in Miami." 
After graduating in May, Dushi plans to go back home to Kosovo to work in a prominent law firm and use the "skills I have gained through this LL.M."
For Eva Baldursdottir, who was born and raised in Iceland, receiving the Fulbright scholarship allowed her to learn international law in a diverse law school. She is currently working towards her LL.M. degree in International Law and expects to graduate this May as well.
"Simply put, I felt very excited and honored [to receive a Fulbright scholarship]. It's such an acknowledgment of the work I had been doing over the years as well as my previous studies," said Baldursdottir.
Baldursdottir received her Bachelor of Arts and Master's degree in Law from the University of Iceland. Since 2012, she has worked as an attorney for The Ministry of Finance and Economic Affairs in Iceland. 
She chose to pursue her LL.M. degree at Miami Law "because of the diverse culture of Miami and ultimately the law school. I wanted to learn international law in an international, diverse environment. I knew people who had gone to Miami Law and all of them recommended it."
After graduating this May, Baldursdottir is looking to focus her career on climate change.
"I plan to pursue an academic career with a focus on climate change and/or work with international organizations connected in some way to environmental and sustainable matters. Ultimately, working for the United Nations is one goal and maybe later in life further pursue my political aspirations."
Read more on why foreign-trained lawyers study at Miami Law
Read more on the White & Case International Arbitration LL.M. 
Read more on the LL.M. in International Law.