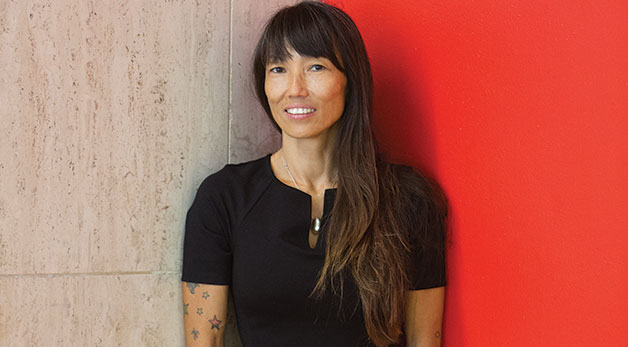 Theresa Pinto
The path from the sex life of fungi to law school is hardly traditional.
But "non-traditional" may be the best way to describe second-year J.D. student Theresa Pinto.
The other way, of course, would be "overachiever." As in, mother of five—ranging from almost 8 to 17; high school graduate at 16; environmental biologist, eco-friendly entrepreneur, and an author who decided to go to law school almost two decades after she left graduate school.
Her untraditional trajectory, though, began long before that.
She was found wandering the streets in Korea when she was three years old. She had a note pinned to her shirt. It read, "Kim, Won-Hee. August 20, 1972." In Korean. 
Adopted by Italian-American New Yorkers, Pinto grew up in Hollywood, Florida. There, she says, her mother and grandparents pushed her toward a career in medicine or the law. 
She chose mechanical engineering. She got into the University of Miami, and quickly realized engineering wasn't for her. She quit after a year. Completely.
She left school, took a year off, and then went to Miami Dade College for a year before enrolling at Florida International University. 
Loving the Life of Fungi 
By then, she says, she knew what she wanted to study: biology. And religion. "Which was just completely for personal interest," she says.
Working in a laboratory with one of her professors, she became fascinated with the love life of fungi. Parasexuality in asexual pathogenic fungi, to be exact. 
"Once I started working on microbes and genetics, I fell in love with the whole study—with the evolution, with the genetics, with the amazing kind of abilities, I guess, that microbes have," she says.
She graduated with dual degrees, a B.S. in biology and a B.A. in religion. With honors.
Then she moved across the country to pursue a Ph.D. in environmental science, policy, and management at the University of California, Berkeley, where she was the recipient of the George Carroll Plant Pathology Fellowship and served on the Graduate Programs Committee. 
Three years later, she decided she had had enough. 
"I decided that I don't want to be doing research on fungus," she says. "I, basically, was being pigeonholed. So I left."
Motherhood and a Shift in Career Focus
She moved back to South Florida to be with her then-husband, and soon enough, she says, "I started a family and that was it."
She went to work with the U.S. Department of Agriculture as a plant protection and quarantine technician, climbing into the bellies of airplanes inspecting cargo and questioning passengers at the airport and seaport in Miami. 
A few years and a second child later, Pinto divorced. 
With a second marriage, she spread her creative wings. She teamed up with her sister-in-law to author a children's book, The Loudest Boy Ever, based on her experience after her second son was born.
"I just remember being struck by how noisy everything seemed with the new baby and how noisy my son seems," Pinto says. "So, the book kind of came to mind."
Then Pinto launched a consignment/gift store called "Loudgirl Exchange," selling children's clothing and environmentally friendly toys and products. 
"We had a company that did all wooden toys and things like that," she says. "We actually had a woman who would grow herbs in her backyard, basically, and make handmade bug spray, mosquito spray, and soaps and we would sell them."
Interest in Environmental Protection Segues to Law School
Then came the Great Recession. The store closed. Pinto turned her attention to politics. Soon enough, she found herself working in places where policy intersected with science. And with her family.
One of her oldest son's science camp directors ran a nonprofit environmental group, the Urban Paradise Guild, dedicated to environmental consciousness and combatting the effects of sea level rise by establishing sustainable urban ecosystems. Pinto volunteered and served as the group's lead scientist and director of education and community engagement.
In 2017, she co-founded March for Science Miami, aimed at countering one of her pet peeves. 
"Part of the reason why there is a March for Science, for me, is because I really feel like human beings, in general, don't have a basic science or biology education that allows us to deal with the environment," she says. "The March for Science is about that kind of access to accurate information and evidence-based policymaking and all that stuff."
Law school came as a logical extension, and Miami Law the perfect place.
"I think it might be an avenue to really do something to affect some sort of change," says Pinto. "UM had the Environmental Justice Clinic, and they have the HOPE (Public Interest Resource) Center … It seemed to me they have a much more social aspect, a social justice aspect, to their law as well as having all the other typical law avenues."
She started helping on some of the clinic's cases over the summer and has become an intern there. She also is editing for Jotwell, an online law journal founded by Miami Law's Laurie Silvers and Mitchell Rubenstein Distinguished Professor A. Michael Froomkin. 
Plus, she's worked with former UM President Donna Shalala on a Gun Reform Working Committee to come up with research and solutions to gun violence. 
All fits with her long-term goal—for a nontraditional job. 
"I would love if I could find a place where I can help work on those cases where it's very direct personal remediation, but then also write and influence policy and scholarly work."