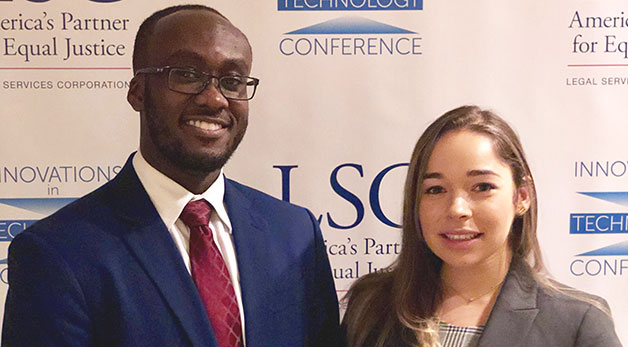 3L Stephen Caines and 2L Talia Boiangin
When 3L Stephen Caines and 2L Talia Boiangin accepted positions in the Access to Justice Technology Fellows summer fellowship program last spring, they both knew that they shared a passion for using technology to increase access to justice.  
"As a law student interested in technology, I was constantly looking for opportunities where I could work in tech and also get legal experience," said Boiangin. "If it were not for the ATJ Fellowship opportunity sent out by Miami Law's HOPE Public Interest Resource Center,  I would have missed out on a summer internship that put me right at the intersection of law and technology.
However, what Caines and Boiangin did not realize was how the Fellowship would launch them to the forefront of several cutting-edge issues. Since completing the ATJ Summer Fellowship, both Boiangin and Caines have obtained internships working on innovative issues at the intersection of tech and legal aid at Legal Services of Greater Miami and they jointly presented about their experiences at Legal Services Corporation's Innovations in Technology Conference in early January. 
As an ATJ Fellow, Boiangin worked for Community Legal Services of Mid-Florida where she conducted simulation meetings and researched and assisted in the development of an AI-powered consumer law chatbot. She also drafted the privacy policy for minors in compliance with the strictest privacy regulations like the General Data Protection Regulation. 
Caines, on the other hand, spent the summer working for LSGMI where he focused on helping to create the Florida Legal Aid Resource Federation, an information sharing system between all LSC and Florida Bar Foundation funded legal aid organizations in the state that aims to make it easier for clients to find legal help. In addition to this central project, Caines worked on integrating SMS messaging into the case management system, aided in the redesign of LSGMI's website and automated certain tasks such as travel reimbursements.
Boiangin and Caines' shared passion made them the perfect pair, alongside their supervising attorneys, to present together at the LSC's ITCon which focuses on achieving greater access to justice through the implementation of technology in legal services. 
Presenting alongside Josh Lazar, Senior Director of Information Technology at CLSMF, and Ilenia Sanchez-Bryson, Chief Information Officer of LSGMI, Boiangin and Caines spoke about their legal technological involvement during law school. They also covered the knowledge they gained as ATJ Tech Fellows, and resources legal aid organizations can use to find qualified law student candidates for internships and jobs after graduation who can successfully implement technology in the delivery of legal services. 
Adds Boiangin, "I also would not have met such incredible people in legal aid who want nothing more than to help people in need. After an incredible summer, Stephen, our supervisors, and I felt we had a responsibility to teach other host organizations how they can find tech-savvy law students so they can have just as great a summer as we did. The LSC conference was an incredible place to present for the first time." 
Caines credits Miami Law for his opportunity to be involved with presenting at the conference. "Miami Law has a dedicated commitment to the intersection of innovation in technology and the legal space," said Caines. "Beginning my legal career here provided foundational classroom knowledge as well as access to technology-related experiential learning including the Cyber Civil Rights Initiative, Startup Practicum, and the ATJ Fellows Program.  
"The 2019 ITCon was a great opportunity to both network and learn from other tech interested law students while sharing best practices with employers on effectively implementing technology-focused law students into their organizations.  The conference also highlighted Florida's key role in the Access to Justice Movement through several statewide projects such as the Florida Legal Online Intake Application."
"We are committed to ensuring that our law students, the lawyers of tomorrow, have opportunities to develop multidimensional skillsets to ensure that they can solve their client's problems. An understanding of technology as resource to bridge the access to justice gap is a value-added that the ATJ Fellows can bring to their advocacy," said Marni Lennon, Assistant Dean for Public Interest & Pro Bono and the Director of the HOPE Public Interest Resource Center.
No matter where their paths may lead, Caines and Boiangin both plan to utilize technology to ensure that legal services are as accessible and effective as possible.