Michele Roberts, Executive Director of the National Basketball Players Association, spoke about her professional journey as well as some current issues surrounding the NBA. The talk, structured in a fireside chat format with Acting Dean Osamudia James, was co-sponsored by the Entertainment and Sports Law Society and the University of Miami Libraries.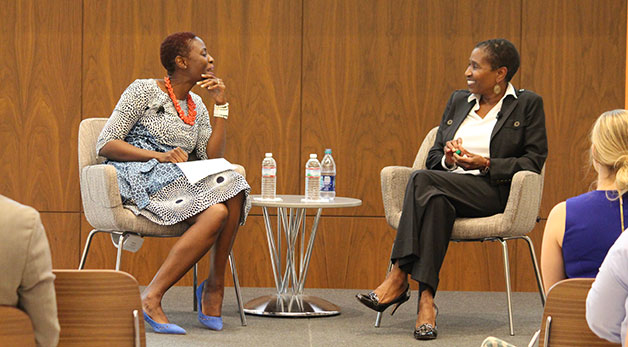 Acting Dean Osamudia James & Michele Roberts
The Spark Behind A Career in Public Service
Roberts started her career as a public defender in Washington, D.C. Having lived in Bronx housing projects as a child, she witnessed injustices in criminal prosecution in her community, and recalled what inspired her to pursue a career in public service. "I believe in our system because I think that on paper, it's second-to-none on the planet. But I'm not so naive not to appreciate that it's all a question of resources," she said. "It's not so great in the actual practice — poor people, poor litigants, criminal defendants get bad lawyers most of the time. That's just the truth." 
She rose to become Chief of the Trial Division at the Public Defender Service for the District of Columbia before moving to private practice after eight years. In 2014 she was elected as the Executive Director of the NBPA.
"I knew basketball because I grew up in New York," she said. "But I never envisioned having a position in sports." Roberts has nevertheless thrived in her role, and was unanimously re-elected as Executive Director in July of this year. 
One-and-Done Rule
Roberts discussed the NBA's controversial one-and-done rule, which stipulates that athletes must wait at least a year after high school before declaring for the NBA draft.  An initiative of the league, the rule has faced heavy pushback from the Player's Association, which has made progress towards overturning the rule.  
"I know that's going to be one of the next big issues for collective bargaining," Acting Dean James said.
Critics have argued the rule is disruptive to players' careers and to college basketball. Many athletes opt to play at the college level for a year before dropping out and joining the NBA; some choose to play in Europe before returning to the United States. 
Roberts is a strong opponent of the rule despite the challenges that players straight out of high school can face. "Personally, I thought the one-and-done rule was offensive," she said. "For me, the notion that just because somebody was 'only' 18 they should not be able to make a living when some team was prepared to pay them was offensive." 
Salary Cap Smoothing
Roberts went on to talk about the salary cap smoothing, a controversy prompted by the League's attempts to artificially depress athlete salary caps following a multimillion-dollar windfall for the NBA resulting from new television contracts. 
When requested by the league to implement the smoothing scheme, Roberts was wary. "My common sense told me it was not a good idea," she said. "You're asking the players to have less money, but you're not asking the teams to do that." 
The NBPA hired two separate experts to predict the outcome of such a salary model. "They both independently came back and said what you're essentially going to be doing is keeping money out of players' pockets," Roberts said. She rejected the proposition on behalf of the union.
Recalling the NBA's request, Roberts said deridingly, "I thought it was the funniest thing I ever heard." 
Foundations in Trial Work 
During her time as a litigator in D.C., Roberts was described by The Washingtonian as the "finest pure trial lawyer in Washington." 
"Part of my success was being willing to devote the time, because I did. It's hard work — it looks easy, but it's not. Preparation, preparation, preparation," she said. As for the other part, eagerness to learn was essential. "I always wanted to be a better lawyer at the next case than I was at the last." Tying her story to the NBA she said, "It's much like my players now. They don't settle — they continue to figure out a way to do better."
"As a young lawyer I knew that I was not a master cross-examiner, but that didn't stop me from wanting to be a master cross-examiner. So I found out who the people were that were good at it and I watched them and I spoke to them and I learned," she added. 
Overcoming Career Obstacles
As a woman and a person of color, Roberts faced challenges throughout her career. "I knew that people didn't look like me that were doing what I wanted to do, and it was not the most welcoming environment," recalling being the only black woman in her office. "It's easy to say, 'well, they don't want me here so I'm not going to bother,'" she said. "But I just didn't allow myself to be overcome by that." 
Roberts encourages tenacity in the face of this kind of adversity. "Don't let the fact that you walk into rooms and you're the only one, intimidate you" she said. "You can't allow the fact that you're the only one to paralyze you, frighten you, and then keep you from doing what you want to do." 
She parted with words of inspiration for the audience, full of aspiring lawyers. "If you want to be in sports, be in it," she said. "Just be the best at what you can be." 
More on the Entertainment and Sports Law Society 
More on Sports and Entertainment Law at Miami Law