Christopher Demos-Brown, J.D. '94, stands at the entrance of Shubert Alley at the heart of Broadway's theatre district where two of the Great White Way's most storied theatres – the Booth and the Shubert –  stand back-to-back.
On this cool November morning, the marquee advertises American Son, starring Kerry Washington, of Scandal fame, and Steven Pasquale, known for his role on Rescue Me. The story of is one of the vulnerability of young black men in interactions with police told through bi-racial parents searching for their son.
The Miami lawyer will see the show tonight, opening night, with his wife Stephanie and his middle school aged daughters by his side. He has seen the show dozens of times, in previews, on other stages, but first in his head. He is the playwright.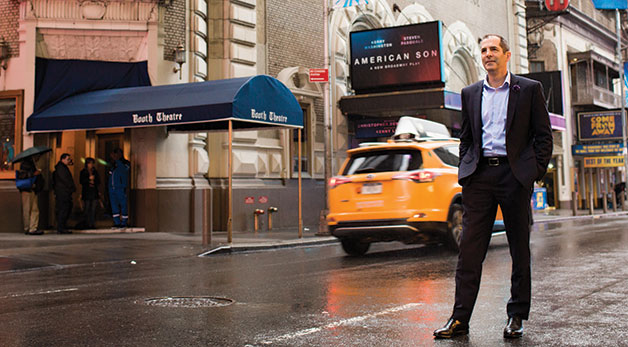 Christopher Demos-Brown, J.D. '94
A First Stab at Acting Takes a Turn Towards Law School
Demos-Brown once thought he'd be an actor and struck out to Hollywood after college to hone his chops. Five years and few roles later, he admitted that he was likely never going to be "discovered." Reading and writing reviews of hundreds of scripts for Universal Studios had paid the rent, but it didn't scratch the itch to be a creative force in the universe.
With the tall palms of Sunset Boulevard in his rearview mirror and an acceptance letter from Miami Law in the glovebox, Chris Brown came home. "I still had some thoughts of going into politics and law school seemed like a way to go about that. It's one of the few big decisions I've made that I've never regretted. I feel such gratitude to the University of Miami because they basically gave me a free ticket. The scholarship gave me a huge advantage in that I wasn't chasing student loan debt after."
Loving the Law and Problem-Solving Help with Playwriting
His three years of law school went by filled with trial advocacy and law review, and the plan to run for office someday loomed somewhere far ahead. As a good start, a job as a prosecutor with the Miami-Dade State Attorney's Office awaited him after graduation, where his Hollywood skills came in very handy.
"The practice of law involves having procedures that you follow to help you tackle problems, and that kind of problem-solving is handy in playwriting," he says. "I make timelines in almost every case where I put the facts or the documents or the witnesses that help you establish the information. I use that process in playwriting, too, where you are trying to control information when it comes out and how it comes out.
"The American system of law is adversarial, meaning there is conflict inherent in it, and that is what good playwriting is about: good conflict that leads to some end," he says.
It was at the prosecutor's office that he met and married Stephanie Demos, and the once Chris Brown became Demos-Brown, melding their names to cement the connections to one another and their two girls.
A Career in Law while Remaining a Playwright
Demos-Brown loves to practice law and loves the life and the trial practice firm he and his wife have built, Beasley, Demos & Brown, LLC. But he also has a not so secret life as a playwright, late at night, early in the morning, and when traveling. He has written plays, comedies, and dramas, mostly set in Miami, with subjects ranging from the Cuban diaspora and cocaine cowboys to satires of the American Constitution in The November Laws and a dark comedy about the U.S. tort system in Wrongful Death & Other Circus Acts.
American Son is not so much a departure from his earlier works, but more of a taking on of a subject that chafed at him. "Three incidents prompted the play: Eric Garner, Treyvon Martin, and Tamir Rice. Treyvon Martin was a case where I could absolutely see any son; accosted by some maniacal, self-designated vigilante. Eric Garner was one where I could actually see the police point of view," he says. 
"While the guy's violation was minor compared to the reaction, the guy was selling cigarettes illegally and had to go to jail, and when the police tried to arrest him, he refused. I could at least see how the tragedy occurred. Tamir Rice was the far end of the spectrum. How does a 12-year-old kid get shot in that situation? That was the most appalling and tragic of all of them.
"Our tribalism is magnified when we talk about race. Our discussions of race tend to be discussions that happen among our own tribe. You don't often get into frank discussions about race with people who are not your own race, so what you end up seeing are public projections of people of different races rather than genuine feelings and internal differences," Demos-Brown says. "I hear things among family members and friends that would shock (or probably wouldn't) African Americans. And I'm sure around a Black dinner table at Thanksgiving there are things that are said that white people would be very surprised to hear." 
Never mind that Demos-Brown (and his wife) are founding members of Zoetic Stage, a company dedicated to staging new works homed at the Adrienne Arsht Center; he has won most every South Florida theatre award; and his show sold out nightly throughout its Broadway run - he is in no hurry to change up his personal story. 
"If there were a way to make a living exclusively writing and not have to move my family to Los Angeles, I'd probably do it, but we have a wonderful practice and our home is here," he says. 
"What I found invaluable about UM is that most of the people who graduate from the law school practice here, so there is a large referral network and people who give you support in your practice," he says. 
"If you want to practice in Miami, there really isn't a better place to go. And I still spend 80% of my time practicing law. "