Mariana Briceño (Photo courtesy of Sandy Campbell/Vanderbilt University)
As the gateway to Latin America, students at Miami Law have access to the unparalleled network of 150+ multinational companies with headquarters in South Florida. Just ask Mariana Briceño, a part-time J.D./LL.M. in International Law student who hails from Venezuela.
When she began her studies in the LL.M. in International Law (Inter-American Law Specialization), she took the course "Doing Business in Latin America" with Visiting Professor Hernan Pantaleón.
In sum, Briceño thinks, "It's the best class; the best way to find a job."
Regional Latin American and Caribbean Counsel as Guest Speakers
During the course, she heard many guest speakers present and met in-house counsel from all over. At one of those presentations, she made a contact that led to her current position as an analyst in the business and legal affairs department at HBO Latin America.
Briceño came to Miami Law with a lot of experience under her belt – a lawyer in Venezuela, a business LL.M. from Vanderbilt Law School, years working at Baker & Makenzie, and a member of the New York Bar.
But it was the course, Briceño says, that added that boost to break into this tight job market.  "It is perfect for the LL.M. who wants to work as in-house counsel for a Latin American legal department. It gave me the tools to understand the issues that arise in Latin America."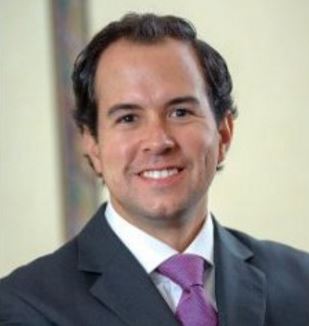 Juan Pablo Borja, LL.M. '17
Fellow classmate in the International Law LL.M., Juan Pablo Borja agrees, "The course was a game changer for me. Many people come to their LL.M. with various goals, and one of mine was networking." From the course Borja landed a position in Microsoft as a Legal Support Specialist. 
A Course that Brings the Industry to Miami Law
That is precisely how the course was designed. Professor Pantaleón explains that he and International Graduate Program Director Carmen Perez Llorca wanted to have a class that provided "a way to bring the industry inside the Law School."
"Together with Carmen and Yazmyne Vazquez (from Miami Law's Career Development Office) we contacted the leading practitioners in the most representative U.S. industries doing business in Latin America and invited them to act as mentors to our students in a project paper for grade and also as lecturers to the class," said Pantaleón.
It was Borja's hard work on such a project that helped secure his job at Microsoft. "I was assigned as mentor for my paper Daniel Korn of Microsoft Latin America, with whom a couple of weeks later I interviewed for a position. I demonstrated to Mr. Korn what I was capable of, even having him present at my final paper's presentation."
Key Career Office Contacts
Miami Law is the only school to be part of the South Florida Group of Regional Counsel  - recently named Juncadella Corporate Counsel Group (JCCG) - made up of more than 300 members from 250 multinational companies.  
Vazquez, of Miami Law's career office, agrees. "The access to this group of in-house counsels either based in South Florida or who do work primarily related to the Latin America and Caribbean region gives students opportunities for relationship building, networking, and sharing of information and best practices among members.  
"The majority of the industry experts and mentors for the 'The Doing Business in Latin America Workshop' came from this group."
Resulting Job Offers from Networking
Another benefit of the course is the professionals that came to present did so in a small workshop environment - a setting that lent itself more easily to networking than the typical cocktail reception or job fair. Borja, the LL.M. '17 from Ecuador concurs, "Because there were only a few of us, we had every day the opportunity to talk one on one because there were only a few of us, where in networking events there is a lot more people."
Other in-house counsel that participated included:  Ingram Micro, Latam Airlines Group, Caterpillar Inc. Latin America & the Caribbean, CONCACAF,  AccorHotels North & Central America, BBC Worldwide Latin America, and Amadeus.
According to Professor Pantaleón, the course met its goal of giving students the academic and practical background for working with the complexities of Latin America.
"The result was a successful gathering among practitioners and students (future practitioners) where the topics for discussion were based on professional experience, challenges and risks of doing business in such a particular and complex region."
More on LL.M. Programs.
More on Joint Degree options
More on Top Reasons for International Students to Study at Miami Law