Drawing on his family ties, entrepreneurial spirit, and legal education, Victor H. Mendelson, J.D. '92, has played a key leadership role in one of South Florida's most remarkable business turnaround stories.

In the past 20 years, Mendelson and his brother Eric, guided by their father Laurans, have transformed HEICO Corporation from a money-losing venture to a highly profitable global aerospace and electronics conglomerate with more than $1 billion in annual sales. Along the way, Mendelson has helped fight off a $100 million lawsuit by United Technologies Corp. that would have closed the company's doors and has negotiated more than 60 acquisitions.
Today, HEICO (NYSE: HEI and HEI.A) has a $4 billion market cap, and analysts project sales of $1.3 to $1.4 billion this year. "Our compound annual return over the past 25 years has been about 23 percent—better than Warren Buffet's investment in Berkshire Hathaway," Mendelson said.
Based in Hollywood, Florida, HEICO has multiple locations around the world for design, manufacturing, repair, overhaul, distribution, sales, and support capabilities. Over the past decade, Forbes magazine has ranked HEICO as one of the 100 "World's Most Innovative Growth Companies," 100 "Best Small Companies," 200 "Hot Shot Stocks," and 100 "Most Trustworthy Companies in America."
Mendelson has served as HEICO's co-president since 2009 and is also president of the company's Electronic Technologies Group, whose net sales increased 46 percent to a record $132.6 million in the second quarter of fiscal 2016. "Our products are found on large commercial aircraft, regional, business and military aircraft, as well as on a large variety of industrial turbines, targeting systems, missiles, and electro-optical devices," he said.
SHARING A DREAM
Born in New York, Mendelson was 15 months old when his parents, Laurans, and Arlene, moved to Miami. He graduated from Gulliver School and then returned to New York City as a freshman at Columbia College, earning his bachelor's degree in political science in 1989. His older brother Eric was already a student at Columbia, on his way to a bachelor's degree in economics and an M.B.A.
The brothers had already formed an investment company, and Mendelson was considering a law degree in preparation for a career in finance.
"With our father, we shared a dream of taking over a troubled public company and making it a success," Mendelson said. "Since Eric and I were in New York, we were able to talk with several Wall Street securities analysts. One of them suggested we look at HEICO, which was a small Florida company that was losing money."
The three Mendelsons acquired enough shares to become the largest shareholders but had to initiate a proxy fight for control of the company. "During my senior year at Columbia, we sued the directors for proxy solicitation violations, and the case came to trial during my first semester at UM law school," Mendelson said. "By the end of the trial, it was apparent that we would win, so the company turned over management to us on January 1, 1990."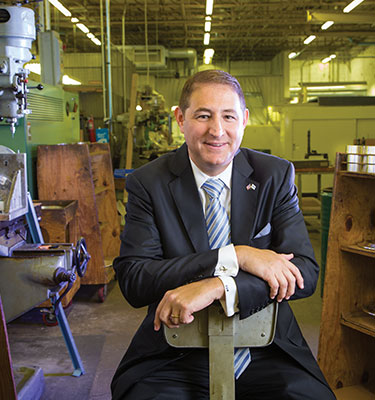 Victor H. Mendelson
A NEW CHAPTER
At that time, HEICO had about $26 million in annual sales with a market cap of about $25 million. One of the first things the Mendelsons did was to allocate about 12 percent of the company stock—priced at less than $1 share—to the employees' 401(k) defined contribution plan. Since then the value of those shares has grown exponentially. As Mendelson said, "We are proud to have rewarded our company's loyal employees turning many of them into millionaires."
In the early 1990s, Mendelson was living at home, juggling his law school assignments with the responsibilities of building a business. "We have a close family, and the company is intertwined in our lives," he said.
But Mendelson also paid close attention to his classes, particularly the corporate and security law courses taught by Professor Stephen Halpert. After he graduated, he returned to the law school several times as a guest lecturer on his experience at HEICO.
For Mendelson, one of the primary benefits of a law school education was being able to serve as the general counsel, as well as an operational executive, on HEICO's lean management team. "Every contract over a minimal size and every important negotiation came across my desk," he said. "I was responsible for closing most of the 62 acquisitions we've made since 1996, working with the entrepreneurs who were selling their companies. My legal background helped me navigate those deals, and I was able to overlay my business judgment on top of that."
SECRETS OF A TURNAROUND
Turning around HEICO was a long-term process—not like waving a magic wand. "We were able to do so by running a good business, taking care of our people, and developing products our customers needed," Mendelson said.
One of the first and most serious challenges the Mendelsons faced was a lawsuit from UTC dating back to the 1980s. "They filed an injunction to prevent us from making a jet engine replacement part—our only product at the time—and sued for $100 million in damages," he said. "Fortunately, our insurance company covered the legal fees, and our attorneys were successful in defending our company. After ten years in the courts, the UTC lawsuit was dismissed."
Meanwhile, the Mendelsons began broadening HEICO's product line, beginning with aircraft replacement parts and moving into electronic components. "I founded our Electronic Technologies Group in 1996 as we began acquiring aerospace and defense electronics firms," he said. "We now develop mission-critical, high-reliability components for a variety of applications. Our latest products include chips for laser range finders that help determine the distance from a target, as well as infrared testing and calibration equipment for aircraft cameras and detection systems," Mendelson said. "These are all critical components in advanced technology products."
 
BUILDING ON SUCCESS
Through the years, HEICO has allowed most of its acquisitions to run as stand-alone businesses within the corporate framework. "We are buying successful niche businesses where the founders and owners have knowledge and expertise," Mendelson said. "We are not looking to squeeze more juice from the same orange. Instead, we want to encourage their creativity and ability to respond to the market so they can continue their success. As a result, about 90 percent of those entrepreneurs are still with us."
On the personal side, Mendelson and his wife Lisa have three children, including two daughters at Columbia University, where he now serves as chairman of the Columbia College Board of Visitors. Active in a number of community organizations, including serving as treasurer of the Boys & Girls Clubs of Miami-Dade, trustee of St. Thomas University, and board member of Florida Grand Opera, Mendelson said, "Lisa and I love the South Florida lifestyle. We couldn't imagine living anywhere else."