Professor Stephen K. Urice understands the power of art.
"Experiencing a work of fine art adds meaning to my life," said Urice, a recognized leader in the evolving field of art, museum, and cultural property law.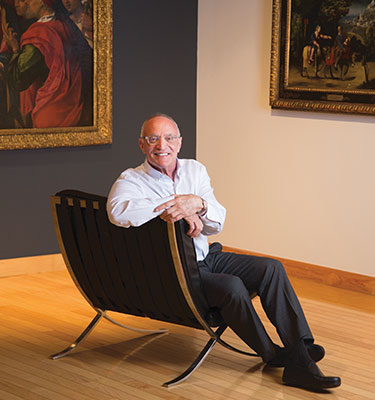 Stephen Urice
One example of Urice's passion for classical art is the famous Euphronios Krater, an ancient Greek terracotta bowl that was illegally removed from an Etruscan grave in 1971 and placed on display at the Metropolitan Museum of Art in New York City.
"I loved seeing that bowl whenever I visited the Met," Urice said, noting that the piece was repatriated to Italy in 2008 and is now displayed at the Archaeological Museum of Cerveteri. "I'm making a trip to Rome in the fall to see it again," he added. "It has that strong a pull on me."
With his deep interest in classical art and architecture as well as the law, Urice is a noted legal scholar and teacher who lectures nationally and internationally on cultural heritage law and policy. He has served on the faculty and planning committee of the American Law Institute's course of study on Legal Issues in Museum Administration for many years.
Since joining the faculty of the University of Miami School of Law in 2006, Urice has taught classes on trusts and estates and elements of the law, as well as courses related to the arts. He is also the arts track director for the school's LL.M. in Entertainment, Arts and Sports Law program, and serves on the Collections Committee for the Lowe Art Museum. He is a former member of the UM Research Council and multiple law school committees.
"There is a wide range of legal issues in the world of art," Urice said. "To take just one example, when a collector purchases a work of art, does the new owner obtain good title and is the work authentic?  The same issues apply when museums or collectors acquire antiquities, but the title issues are far more complex, as they may involve foreign patrimony laws."
STUDYING CLASSICAL CIVILIZATIONS
Born in New York City, Urice grew up in Delaware and upstate New York with his mother Babette, a teacher, and his brother John, who later become a professor of theater history. He graduated from a small Quaker high school in Delaware and earned a bachelor's degree in English from Tufts University in 1972.
Deciding on an academic career, Urice enrolled at Harvard University, where he earned a master of theological studies (M.T.S.—Old Testament) and a doctorate in fine arts. During his doctoral program, based at Harvard's Fogg Art Museum, Urice worked extensively as a field archaeologist in the Mediterranean region.
"I was doing archeological work on a major Bronze Age site in Cyprus, when the Turks invaded in 1974," he said. "The research venture fell apart, and I was evacuated to Beirut, and started traveling in the Mideast."
Urice then directed excavations on an early-Islamic site in Jordan in cooperation with the Jordanian Department of Antiquities and with funding from the Aga Khan Program for Islamic Architecture. Urice published the results of that archaeological expedition in his doctoral dissertation and later in a book, "Qasr Kharana in the Transjordan" (American Schools of Oriental Research, 1987).
Reflecting on the recent destruction of historic Mideast cultural sites by leaders of the Islamic State of Iraq and Syria, Urice said those actions constituted war crimes. "The question is, were we to achieve a post-ISIS world, what are the legal options for prosecuting individuals involved in intentional cultural heritage destruction?" he asked. "Could we convene an international tribunal to try individuals for their actions as the Allies did after World War II? What other options exist?" Urice discussed those questions at an international conference in Geneva this summer.
BECOMING AN ATTORNEY
After obtaining his fine arts doctorate at Harvard in 1981, Urice left field archaeology to earn his juris doctor degree and begin a career in law. Several years earlier, he met Dr. Mark Beers, a physician who was his partner for 32 years. They married in 2008 a year before Beers passed away.
"Mark had embarked on a career in academic medicine, and it seemed unlikely that two out gay men in the early 1980s would be hired by the same academic institution," Urice said. "As a lawyer, I could practice anywhere in the country, and that's what I did."
Following law school, Urice in 1984 joined the Trusts and Estates department at Milbank, Tweed, Hadley & McCloy in New York. Several years later, he moved to Los Angeles with Beers, and joined Irell & Manella, focusing on estate planning, the law of private foundations, and museum and art law.
While practicing at Irell & Manella, Urice joined the adjunct faculty of the University of California Los Angeles School of Law where he taught classes in art law. "This is still a relatively new field of law," Urice said, adding that the first text to address law and visual arts was published only in 1959.
In the 1990s, Urice left the law firm to serve as counsel and acting director of the Frederick R. Weisman Art Foundation in Los Angeles. He later moved to Philadelphia and served as director of the Rosenbach Museum & Library. That was followed by an appointment to The Pew Charitable Trust to plan and implement the trust's national cultural policy program, a $50 million, five-year effort to assist nonprofit cultural organizations to participate more fully in the development of cultural policies at local, state, and federal levels.
Urice became director of the Project for Cultural Heritage Law & Policy at the University of Pennsylvania Law School in 2003. He served as director and lecturer in law for three years before moving to Miami.
TEACHING AND WRITING
At Miami Law, Urice encourages students to delve into the legal complexities of the art world. "Many people don't realize how many laws affect artists, galleries, collectors, and museums," he said. "For example, there are zoning laws that permit studios in living spaces and regulations addressing hazardous substances used in painting and sculpting."
RELATED MULTIMEDIA: Stephen Urice is also the arts track director for the school's LL.M. in Entertainment, Arts and Sports Law program
Attorneys may also be involved in the often complex financial and tax issues involved in multi-party transactions, as well as protecting the ownership of a work and its likenesses. "In addition to typical intellectual property rights, an artist is also granted statutory moral rights that aim to protect artists' reputations by guarding against misrepresentation or intentional destruction of their work," Urice added.
In the Spring 2017 semester, Urice will be teaching the school's first class on museum law, a course he regularly offered at Penn. "Museum law is primarily a U.S. phenomenon since most collecting institutions here are privately funded and operated rather than governmental agencies as they typically are elsewhere," he said.
On the writing side, Urice is now working on a revision of Law, Ethics and the Visual Arts, the standard art law casebook, and is preparing the first edition of Wills, Trusts, & Estates: The Essentials. He is a co-author of both books. He is also writing articles relating to the doctrine of cy pres and single-donor museums and U.S. policy regarding illegally exported antiquities. "Like most faculty members, I try to balance teaching, writing, and service," said Urice, who enjoys both the visual and performing arts activities in Miami.
Combining scholarship and service to the field, Urice has been deeply involved with the Aspen Institute's Artist-Endowed Foundations Initiative since the project began in 2007. AEFI published a 1,000-page two-volume report in 2010. Since then Urice has participated in publishing supplements to the report and has presented AEFI's findings at leading institutions around the country. More recently, Urice co-directed an intensive 2016 summer seminar in New York for new directors and board members of artist-endowed foundations.
Now, Urice is planning the next Hoffman Forum, an annual event for leaders from the arts, sciences, law, politics, entertainment, sports, and business that is supported by gifts from Larry J. Hoffman, J.D. '54, and Deborah Hoffman, J.D. '83. As in 2015, The Hoffman Forum will again be a collaboration between AEFI and the law school. This year it was hosted by The Morgan Library in New York. The forum convenes invited leaders of AEFs (such as the Warhol, Lichtenstein, and Frankenthaler foundations) to discuss recent developments and challenges in the field.
"I'm looking forward to contributing to the discussion," said Urice. "It's an important event focusing on pressing legal and policy issues. It also raises our law school's national visibility in the arts and foundation worlds."