Q. Tell us about the Roadmap to Our New Century aspiration to become the Hemispheric University.
We are a global university, and we engage with the whole world. But we also have a distinct hemispheric advantage, and this is precisely the concept of the Hemispheric University—using our geographic advantage at the crossroads of the Americas and in one of the most cosmopolitan cities in the world to encompass all of the globe. Many top universities in the United States pride themselves on being global, and so does the University of Miami, but no other university is poised to promote a focus that is so inclusive of the interactions of the hemisphere with the rest of the world.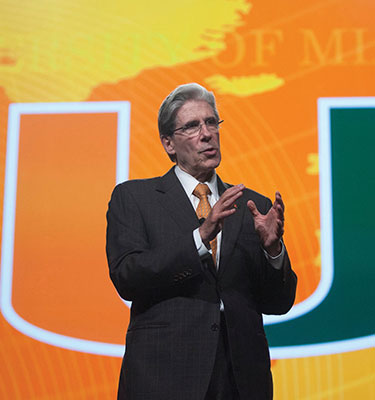 President Julio Frenk
Our hemispheric strategy has five pillars which are 1) the study of the hemisphere; 2) educational exchange; 3) research; 4) technological innovation; and 5) health care.
To facilitate the development of these five pillars, we are launching a Roadmap initiative called the Hemispheric University Consortium with a limited number of partner universities. The consortium will provide an especially strong and structured framework so that, for example, students from different consortium member universities can take courses from other partner universities and receive credit. It's taking the idea of study abroad to a higher level of integration. Similarly, faculty exchanges in both directions would enhance teaching and learning opportunities, some of which would be conducted in person but also using online platforms.
Miami Law already has a very strong tradition in hemispheric and international engagement. When I first arrived to UM, Dean Patricia White shared with me the innovative Law Without Walls program, which I found very intriguing and is an example of precisely the kind of collaboration that can energize the Hemispheric University Consortium. Miami Law will be an integral part of supporting the strategic pillars I just mentioned.
Q.  What are your goals for providing students with more active and participatory learning experiences?
We are at the threshold of an educational revolution, and part of that is being fueled by new discoveries from the learning sciences. We have discovered that the old paradigm where you first learn the theory and then you apply it in practice is not valid. Actually, one of the most powerful ways to learn is by practice itself that then builds into an understanding of the theory behind the practice. There is a strong current of thinking that learning outcomes are better if you start with an immersive experience and then use that experience to elaborate the concepts that allow you to structure that same practical experience. Miami Law's extensive system of clinics is exactly an exemplar of that pedagogical approach. Through these clinics, students get hands-on, immersive experience that then feeds into their understanding of the fundamental concepts and theories of the law. Miami Law serves as a great example for other areas of the University which are now seeking more experiential and immersive models of learning.
Another important benefit of these types of learning opportunities is that in addition to helping our students learn better, these clinics provide a fundamental and valuable service to underserved communities.
Q.  Miami Law has a diverse faculty representing various countries, top tier law firms, government agencies, and visiting faculty, including global practitioners and industry leaders. How does the Roadmap provide opportunities for bringing diverse faculty to UM?
The Roadmap initiative known as 100 Talents will endow 100 faculty positions with the overriding concept that UM should serve as a magnet to retain and attract talent. Of these new positions, a portion will include flexible modalities, which again Miami Law has pioneered with its extensive cohort of visiting international scholars. These new flexible arrangements can be recurring, with a visiting professor who comes for a half-term or a full term to teach a course over a multiyear engagement, and when they are here, they are part of the intellectual fabric of the University. They can come not only from academic backgrounds but also from the world of practice. This is a great way to utilize our geographic endowment because in many parts of the country and the world, Miami is very attractive, especially in the winter months. And when we don't require faculty to move here full time, especially faculty from other countries in the hemisphere, we don't contribute to the brain drain of their communities. There is a lot of merit to this kind of model, which again Miami Law has been at the forefront of with some of their existing programs.
---
Dr. Julio Frenk, a noted leader in global health and a renowned scholar, became the sixth president of the University of Miami on August 16, 2015. He also holds an academic appointment there as Professor of Public Health Sciences at the Leonard M. Miller School of Medicine. Prior to joining the University of Miami, Dr. Frenk was Dean of the Faculty at the Harvard T.H. Chan School of Public Health since January 2009. While at Harvard, he was also the T & G Angelopoulos Professor of Public Health and International Development, a joint appointment with the Harvard Kennedy School of Government. He served as the Minister of Health of Mexico from 2000 to 2006. There he pursued an ambitious agenda to reform the nation's health system and introduced a program of comprehensive universal coverage, known as Seguro Popular, which expanded access to health care for more than 55 million uninsured Mexicans. Dr. Frenk was the founding director-general of the National Institute of Public Health in Mexico, one of the leading institutions of  its kind in the developing world. In 1998, he joined the World Health Organization (WHO) as executive director in charge of Evidence and Information for Policy, WHO's first-ever unit explicitly charged with developing a scientific foundation for health policy to achieve better outcomes. He also served as a senior fellow in the global health program of the Bill & Melinda Gates Foundation and as president of the Carso Health Institute in Mexico City. He is the founding chair of the board of the Institute for Health Metrics and Evaluation at the University of Washington. Dr. Frenk also co-chaired the Commission on the Education of Health Professionals for the 21st Century, which published its influential report in the leading journal The Lancet in 2010, triggering a large number of follow-up initiatives throughout the world. Dr. Frenk holds a medical degree from the National University of Mexico, as well as a master of public health and a joint Ph.D. in Medical Care Organization and in Sociology from the University of Michigan.