When Danielle Tamara Gauer left high school, her passion was for the performing arts. She had grown up performing and dreamed of being an actress. She started auditioning for gigs in the theater and soon signed on to cruises as a dancer. In between contracts, Gauer lived in Marseille, France, for a bit. And as she traveled the world across oceans, making her way around the Americas, Europe, and Asia—she fell in love with the sea.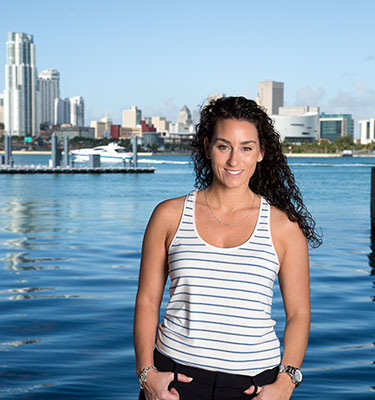 Danielle Gauer
Talking to the licensed Canadian attorney now, it's apparent that her career as a full-time cruise ship performer seems to her like a lifetime ago. "My interests have just continued to grow from the different courses I've taken, my summer experiences, the places I've worked," says Gauer, who has developed a real passion for the maritime law industry. "All these things have expanded my interests dramatically."
The 32-year-old Toronto-native earned both a J.D. and an LL.M. in Maritime Law (formerly known as Ocean and Coastal Law), magna cum laude in May. She is stirring up waves and positioning herself to charter some new territory. Once the Bar exam is out of the way, she will be a first-year associate in the Maritime Law Group at Hamilton Miller Birthisel LLP in the Tampa office and is the new regional development vice chair for the American Bar Association Tort Trial and Insurance Practice Section's Admiralty and Maritime Law Committee.
At Miami Law, Gauer was president of the Maritime Law Society, a member of the International and Comparative Law Review, an intern for the Professional Responsibility & Ethics Program and the Miami STREET Law Program, and a Dean's Fellow. Gauer was also a member of the 23rd Annual Judge John R. Brown Admiralty Moot Court Competition team, taking home the award for third Best Oral Advocate out of 86 competitors.
Gauer continued to explore the many facets of maritime law while in law school. She presented a CLE Ethics Training to admiralty attorneys at the Southeastern Admiralty Law Institute's Fall Meeting during her 3L year and presented "A Maritime State of Disformity" at the Florida Bar Admiralty Law Committee. She was a legal extern with the United States Coast Guard District 7 Legal, which was a process covered in red tape for her as a Canadian citizen.
"Mine was the first of its kind, for a Canadian to do an externship with the Coast Guard," says Gauer, who explained she had to undergo heightened screening to land the position.
"It was unbelievable; I was working on marine oil pollution cases and through that, I got connected with people who work in the Miami port, those who do all the vessel inspections." Gauer had the opportunity to go with the Coast Guard onto several cruise ships to ensure they were complying with U.S. regulations.
When asked if during her days as a performer she ever thought she'd one day pursue being an attorney in two countries, she confesses she had no idea.
It was after three years on ships that Gauer knew she wanted to pursue a career in law and that it was time to go back to school.
She returned to Canada and attended Ryerson University in Toronto. She graduated with honors and the Gold Medal, the school's highest honor, with a Bachelor of Arts in criminal justice, which, in turn, piqued her interest in law school.
"Maybe I'll do some criminal law work, I thought," says Gauer, who had no idea the depth of the legal world into which she was stepping. Her next goal was to finish law school at the University of Ottawa, and that's when private international law began to interest her."Arbitration clauses, forum selection clauses, I just found it all to be so elegant," she says.
While in law school in Canada, Gauer interned at a law firm in Seattle that did a lot of maritime law work, including cruise injury law.
"Cruise lines were familiar to me," says Gauer. But the Seattle firm opened her eyes to the vast world of maritime law. "I found the experience so fascinating as it brought together so many different facets of the law."
Next, Gauer interned at a firm in Miami that handled cruise ship litigation, including plaintiff work. Gauer was able to understand the lawsuits from the perspective of the crewmembers—a role she had once filled.
After completing her Canadian law degree, licensing, and articling at a litigation firm in Toronto, Gauer thought about coming to the U. S. to expand her opportunities to practice.
Gauer looked at a number of LL.M. programs before deciding on Miami Law with its offering in Maritime Law. Already a licensed Canadian attorney Gauer needed to decide where to go to pursue an American J.D. and a career in maritime law, and she did her research before deciding on Miami Law.
"Florida was the obvious choice," says Gauer. "Litigation that has to do with cruise lines has to be filed in Florida."
Gauer was looking for LL.M. and J.D. programs that she could complete together in a condensed period. Discovering that renowned maritime attorney and former judge ad hoc of the International Tribunal for the Law of the Sea Professor Bernard Oxman was part of the faculty sealed her decision on Miami Law.
"Danielle came to Miami Law almost entirely formed," says Oxman, Richard A. Hausler Professor of Law. "She already had a good deal of experience and a handle on the path she wanted to pursue. In class, she was inquisitive, well prepared, and willing to work hard. The industry will benefit from the likes of Danielle joining their ranks."
"My experience at Miami Law has only been positive and rewarding," she says. "I can attribute the contacts I have made in the maritime law field to the guidance and support I have received from Miami Law's faculty, and of course, being situated in Miami."
Gauer's article "Interpleader as an Appropriate Remedial Mechanism to Effectively Navigate the OW Bunker Saga: The Influence of Judge Caproni's Ruling of the United States District Court for the Southern District of New York" is going to be published in the Loyola Maritime Law Journal Winter 2016 publication. Another of her articles has been published in the American Bar Association's Tort Trial and Insurance Practice Section, Admiralty and Maritime Law Committee Newsletter.
"Danielle thrived at Miami Law not only because of her intellect, energy, and maturity but also because she embraced the extraordinary opportunities that the South Florida legal community provides to intrepid and entrepreneurial young people striving to live greatly here," says Professor Anthony Alfieri, who had Gauer as a Dean's Fellow.
As a young attorney just starting out, Gauer feels like she still has a lot to learn but each day brings new experiences and knowledge. She is excited and can't wait to see what the world has in store for her.