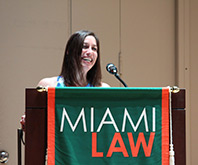 Fara Gold, J.D. '03, has seeming limitless perseverance. The 2003 Miami Law graduate spent three years in pursuit of a job as a prosecutor in the Civil Rights Division of the United States Department of Justice in Washington, D.C.
Gold went on more than a dozen interviews for federal prosecutor positions across the country and received an equal number of polite rejection letters, including one from the office where she now works. Like the Watty Piper book, The Little Engine That Could, Gold never gave up.
Perseverance was the message Gold, a former Miami Scholar, brought to the graduating students at the 2015 University of Miami School of Law Honors Ceremony at Gusman Hall on Friday, May 8th.
"If at first you don't succeed, and you think it's because you didn't go to one of those schools covered with ivy, or because you had a supervisor who thought it easier to put you down rather than build you up, or because it turns out you just don't like the kind of law you are practicing, just keep on trying and keep on after that," Gold said. "I wish someone had told me when I was sitting where you are — perseverance really works."
Just twelve years out of Miami Law, Gold served as the lead line prosecutor from the Civil Rights Division in the 2014 investigation of the shooting death of 18-year-old Michael Brown in Ferguson, Missouri. The magna cum laude Miami Law graduate also brought the first case tried under the Matthew Shepard and James L. Byrd, Jr., Hate Crimes Prevention Act of 2009. Charged were three Farmington, New Mexico men who branded a swastika on a mentally disabled 22-year-old Navajo man using a hot metal coat hanger.
Gold said she "was one of those rare people who knew that I wanted to go to law school by the time I was a sophomore in college. In fact, I specifically want to be a prosecutor and help victims of crime." She said her clinical placement at the Miami Dade Office of the State Attorney reinforced her desire to become a prosecutor. Her work within the local legal community and outreach projects kept her grounded and well-rounded, reminding her why she pursued law school and Miami Law: public interest and public service.
In 2012, Gold was awarded the Attorney General's Award for Outstanding Contributions by New Employee, and the Assistant Attorney General's Special Commendation for Outstanding Service to the Civil Rights Division in 2011 and 2014.
Gold also is an assistant adjunct professor at American University Washington College of Law. Prior to joining the DOJ, she was an assistant state attorney prosecuting sex crimes and child abuse cases for the Office of the State Attorney, 17th Judicial Circuit, Broward County, Florida.
A graduate of Emory University, Gold served on the Honors Council at Miami Law as well as the Society of Bar and Gavel, president of Miami Law Women, and the executive board of the Charles C. Papy, Jr. Moot Court Board. She wrote for the International and Comparative Law Review, was a Criminal Justice Fellow with the Center for Ethics and Public Service, and a HOPE project leader. She was inducted into Iron Arrow, the University of Miami's oldest tradition and highest honor society and received an Alumni Leadership Award from the Law Alumni Association in 2014.
Gold holds her office in the highest regard, recognizing "the extraordinary power that prosecutors have and I am proud of the work I have done both on behalf of the State of Florida and the United States to exercise that power responsibly." She left the graduates with a piece of advice: "You only have one reputation – whether it's helping your colleagues or being civil to your adversaries – remember that now, remember it in 12 years, remember it throughout your career."