Every year, Professional Responsibility & Ethics Program (PREP) students and director Jan L. Jacobowitz present CLE ethics programs to a number of local bar associations. PREP fellows often elect to return to the same bar association that they visited as interns, an experience that is rewarding and educational.
This semester, PREP fellows returned to the Caribbean Bar Association, the Miami-Dade Chapter of Florida Association for Women Lawyers (FAWL), and the South Miami-Kendall Bar Association to talk about the legal ethics issues that may arise when lawyers advertise, integrate social media into their practices, and advise on the business of marijuana.
Reflecting upon her return to the Miami-Dade FAWL, PREP fellow Jennifer Felipe said, "I love presenting for FAWL. This year, we engaged the group in a holistic discussion regarding social media ethics and contemplated the theoretical and practical implications of this evolving area on the practice of law."
PREP fellow Jacqueline Frisch reflected on her visit with the Caribbean Bar Association. "The attorneys in attendance were warm, interested, and inquisitive, which made for a fantastic dialogue and rich exploration of the ethical implications that pop up in the legal practice."
Frisch also presented at the South Miami-Kendall Bar Association.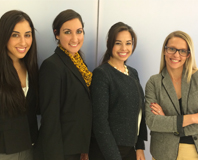 "It was great to be back with this group of attorneys – the discussion is always so lively and meaningful, and while we provided the information, rules, and case law that we uncovered in our research, the attorneys provided their experiences." PREP Intern Daniel Hentschel, who was a first time presenter to this group said, "What an amazing visit. I truly did not expect such a warm response to the subjects. Hearing the attorneys' experience with these hot topics in the legal profession really puts all of our hard work into perspective."
PREP develops customized CLE ethics trainings thereby providing an opportunity for students to explore diverse areas of the law and interact with attorneys practicing in those areas regarding the ethical challenges that confront today's legal profession. The program combines the attributes of an ethics institute and an ethics clinic, and has dedicated hundreds of student hours to public service and has educated thousands of members of the Bench & Bar.
In 2012, PREP was recognized by the ABA with its E. Smythe Gambrell Professionalism Award —the leading national award recognizing programs and projects contributing to the understanding and advancement of professionalism among lawyers and judges. In addition to presenting ethics trainings, throughout the semester PREP students publish blog posts regarding the nation's newest ethics opinions and cases. The blog, Legal Ethics in Motion, can be found here.