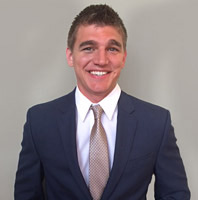 In the summer of 2014, third year student William Mueller was first invited to present the Access to Justice program – A2J - he had worked on with a group of Miami Law students and his supervisors. The presentation took place at the 2014 CALI Conference for Law School Computing hosted by Harvard Law School.
After receiving great praise at the CALI Conference, Mueller and 3L Miami Law student Bethany Bandstra were most recently invited by the Legal Services Corporation to present their Access to Justice program at their National Board Meeting. Mueller and Bandstra presented A2J as a strategy for increasing the ability of impoverished people to access the courts; the program allows for those in need of assistance and guidance to file pre-need guardianship forms with the probate courts in South Florida.
"Bethany and I presented on 'Using Technology to Expand Access to Justice: A Showcase of LSC's Technology Initiative Grants' panel, alongside two fellow presenters," said Mueller. "We gave a PowerPoint presentation and then participated in a Q&A panel."
The program initially came about when Professor JoNel Newman and Melissa Swain of the Health Rights Clinic, approached Mueller and Bandstra, as well as Lisandra Estevez, JD '14, Cassandra Johnson, JD '14, and Alexis Mena, 3L to work on developing their first A2J interview to help individuals fill and file pre-need guardianship forms with the probate courts in South Florida. Within days of finishing the program, the A2J team was asked to pitch the idea to the Greater Legal Services of Miami and several other agencies that provide free legal services to the South Florida community at the Regional Legal Services Advocates Committee Quarterly Meeting.
The A2J project spawned from the idea that pro se litigants need to be guided through processes that are foreign to them. The simple act of filling out forms raises unique challenges that many self-represented litigants have trouble overcoming. Without a very simple front end, a user unfamiliar with web conventions would be unable to use online form systems. To be effective, guided interviews for self-represented litigants must be very simple, and the A2J provides that solution.
"I was very impressed that they were invited, and they did a terrific job," said Professor Newman, director of the Health Rights Clinic. "They were definitely the highlight of the afternoon and generated great interest among legal services programs in developing similar projects."