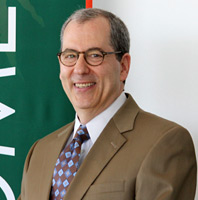 It's not by accident that Harold Flegelman is the inaugural Director of the Entertainment, Arts and Sports Law LL.M. He has spent his career parlaying an early love of music into a thriving corporate practice in the entertainment industry, generously sprinkled with educating the next generation.
"The degree has been designed to support students in finding and creating placements, and just as important, to prepare them to meet the expectations of those who would hire them," he said. "I am honored that Patricia White, Dean of the Law School, has afforded me this opportunity, and I take the responsibility that attends it very seriously."
The LL.M. is for U.S. and foreign-based law students and attorneys committed to counseling professionals and companies in these fields. Additionally, it is for lawyers currently practicing in these areas wishing to be better prepared to address emerging and novel issues, such as equity investment, public-private conduct and regulatory compliance, which have taken on importance and even centrality in these industries.
Flegelman joins Miami Law from the Los Angeles office of Loeb & Loeb LLP, where he was a partner in the Corporate Department and Co-Chair of the Corporate Media and Entertainment Practice Group. The firm's motion picture, television, music and sports practices are regularly recognized and ranked by U.S. News & World Report, placing it on its 2015 "Best Law Firms" listing.
While in private practice, Flegelman was engaged principally in advising clients in all legal and business aspects of the entertainment and media industries, including mergers and acquisitions, strategic alliances, venture capital, debt and equity financings, restructurings, business planning, executive employment arrangements and general corporate representation. Among his many illustrative transactions, he represented motion picture producers and directors in both the raising of equity capital for film funds and the sale of motion picture libraries; Azoff Music Management in joint ventures and sports transactions with The Madison Square Garden Company; and Univision Communications in the sale of its music recording and publishing businesses to Universal Music Group.
His teaching experience includes serving as a Short-Course Visiting Professor at Miami Law since 2011 (The Art of the Deal - Acquiring a Music Publishing Catalog), and as an Adjunct Professor at Southwestern Law School and Whittier Law School, in each instance teaching a comparable course.
"I believe that having him join us as the founding Director of our new LL.M. program insures its success," said Miami Law Dean Patricia D. White.
Flegelman received his B.A. in Economics, cum laude, from Yale University in 1975, and his J.D. from Georgetown University Law Center in 1978, where he was an Associate Editor of The Tax Lawyer.
A former percussionist, and originally from Chicago, Flegelman began his musical experience in the fifth grade. He was interested in playing the trumpet, but a gym accident precluded the brass section. Percussion seemed pretty cool and a "drummer" was born. He would go on to play in the Yale Symphony Orchestra and has been fortunate to sit in on many classical and jazz concerts. It is not surprising that he is also a member of the Visiting Committee at the UM Frost School of Music.
Flegelman is very enthusiastic about joining Miami Law and shaping the LL.M. in Entertainment, Arts, and Sports Law. "The challenge of delivering the highest quality legal services in the most effective and cost-efficient manner has always been with us, and it will always be with us," he said. "What impresses me most about this program is its commitment to preparing its students to meet that challenge."
Read more about the LL.M. in Entertainment, Arts and Sports.