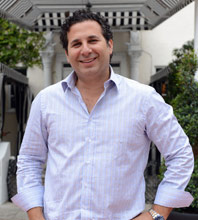 Sometimes in life you are not only at the right place at the right time, but you possess the perfect skill set, and a huge dose of moxie, to make the opportunity a success.
Marc Lawrence, LL.M.'00, was standing in the shadow of his success, sweaty and curious, one day in 2004 when he first wondered about The Angler's, an abandoned but historic hotel on Washington between 5th and 6th Streets in South Beach.
The 41-year-old Long Islander had graduated from the University of Miami with a degree in management, attended Nova Southeastern University for his J.D., then while hanging out with his older brother, Eric, in Great Neck, N.Y., for Thanksgiving one year, talk turned to developing properties. The brothers started honing their areas of expertise.
In preparation, Marc would come to Miami Law for an LL.M. in Real Property Development, and Eric, a CPA, would head to New York University for a Master's in Real Estate Finance.
"I had the best professors at Miami Law," said Marc. "Doug Bishoff was great. And Jack Winston would bring a developer every week or so or we would go on a field trip to see a development. It opened so many doors. That's where I met Roberto Rocha, who was the #2 at The Related Group. I hounded that guy." The Related Group was developing the mixed use and very successful CityPlace in West Palm Beach at the time.
When the brothers finished, Marc was working for billionaire Jose Perez at The Related Group, and Eric would be working for another billionaire, Ty Warner, in New York at the Four Seasons. By 2004, they had all the tools to strike out on their own and The Angler's, built in 1929 and empty since the early 1980s, was up for sale on the courthouse steps.
Marc had kept an eye on The Angler's on his morning runs on South Beach and wondered why it hadn't been snapped up with all the other properties around it. While working for Perez and taking in all the experience the job could offer, the younger Lawrence was also moonlighting researching properties.
When The Angler's went on the block, the brothers had scraped up enough capital to walk away with the mediterranean revival 50-room hotel. They had sold their backers on a condo-hotel concept, and in 2008, as the market went limp, buyers couldn't obtain end loans. Their company, the LBL Group, had to figure out a way to work with their lender and open the hotel unencumbered and free of all condominium unit owners.
"We went back to the bank and refinanced and reconfigured. We gave back the money to condo buyers, renegotiated with the lender, and started running it as a hotel," said Marc, from his minimalist office down the street. It didn't hurt that J. Wallace Tutt III, who was the designer behind Gianni Versace's South Beach mansion, took on The Angler's project, or that they lured Chef Giorgio Rapicavoli to open 660 at the Anglers.
"We had a unique property and a real competitive advantage – the rooms are large because the design was for condos, and the restaurant was a popular destination," said Marc. "We quickly rose to the top of Trip Advisor in our first year open and proudly stayed there for over two years."
It may all look easy now with a gorgeous hotel filled with guests, and an 85-room expansion going up on the adjoining lot, but Marc and Eric paid in some serious sweat equity to make the gamble pay off. "I made a lot of trips to Home Depot, I did landscape work, I have made beds, checked in guests, and carried bags. You don't want to know the sorts of things I have clean up after," he says, like it is a fond memory. "It has been an education, by fire," he said.
"My grandfather loved America, and would say, 'there is always opportunity'," Marc said. "It takes a little bit of luck, and a little bit of patience, and a lot of hard work and that's the recipe for success." His grandfather, Bernard, is the B in their company, LBL Development Group.