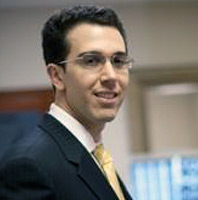 While working as the President of the North Dade Bar association, Jason Neufeld, JD' 07, noticed a problem in his community — there were many individuals who did not quite meet the threshold to be assisted by Legal Services of Greater Miami, Inc. (LSGMI) but who nonetheless could be greatly assisted by its services. Armed with dual JD/MBA degrees from the University of Miami, Neufeld quickly sprang into action and created the Low Fee Referral Service to bridge this particular gap.
Neufeld is hoping that the referral service will capture the working poor, those who didn't qualify for legal services. According to Neufeld, this program will be a win-win, as lawyers who are community service-oriented can give back to the community and people who previously may not have had access will be assisted by professional attorneys. Lawyers with experience handling bankruptcies, personal injury and wills are encouraged to participate. All cases referred by LSGMI will be handled on a reduced fee or contingency basis and clients will be provided with a free thirty-minute consultation.
Serving as the President of the North Dade Bar Association is just one of the many associations in which Neufeld participates. He sits on the Board of Directors of the North Miami Beach Chamber of Commerce, is a founding member of Young Professional North Miami Beach, and is very involved with 2-1-1 Broward, a non-profit that connects the residents of Broward County to one or more of 3000 potential programs and services. In 2007, he was honored with a proclamation of "Jason Neufeld Day" by the City of North Miami Beach for his civic activism and was deemed a Super Lawyer/Rising Star in 2013 and 2014.
Neufeld said it is never too soon to start giving back, "Marni Lennon is one of the best resources in South Florida. She is there at all times and knows everyone in the community, so take advantage!"
He credits his success on the Charles P. Papy Moot Court Board for allowing him to distinguish himself while at Miami Law. Moot Court competitions, and the huge commitment they require, offered a great transition to the leadership roles that he took in several community organizations. Neufeld values his volunteer experiences at Miami Law and recommends that all law students volunteer as a way of helping others, feeling good, and getting name recognition in the community.
As a practicing personal injury attorney, he credited the University of Miami alumni network for much of his success.
"Many Miami Law alumni stay in South Florida which means I run into them at depositions, at the court house and at networking events. Miami Law graduates have remained some of my closest friends."
He also noted that a significant portion of his clients come to him from other Miami Law alumni who trust him to take good care of their friends and family.
Neufeld remains focused on growing the Low Fee Referral Service and urges those with the appropriate skills to get involved. "It would be a great service to expand the practice areas, thus expanding South Florida's citizens' access to justice."