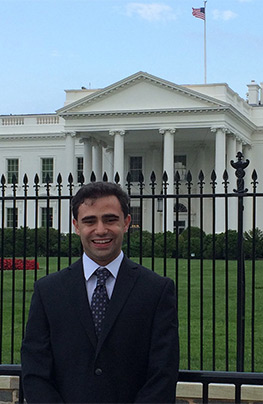 Michael Deutsch, rising 3L, Miami Scholar, and third-generation University of Miami law student, has an innate optimism that remains as strong entering his last year of law school as it was when he decided to attend. "I have always viewed law as a way to make a difference in people's lives," Deutsch said. Indeed, he came to Miami Law because of the school's commitment to public service.
Deutsch has taken that belief to Washington, D.C. this summer as he serves as a HOPE Fellow with the Criminal Division of the U.S. Department of Justice in the Fraud Section. This is not his first summer in Washington, however. During the summer of 2014, he worked with Citizens for Responsibility and Ethics, a non-profit agency dedicated to promoting ethics and accountability in government and public life.
His road to Washington is paved with accomplishments as he has interned with the Honorable Alicia M. Otazo-Reyes of the Southern District of Florida and participated in Miami Law's Health Rights Clinic. In addition, he is the Chair of the Public Interest Leadership Board, serves on the Honor Council, and is a member of the Society of Bar and Gavel.
Deutsch hopes these experiences will prepare him for a career in government or public policy. He notes, "I am using this summer to learn more about the relevant legal issues and hope to observe the day-to-day life of Justice Department lawyers and really get a feel for what it is like to be a government attorney."