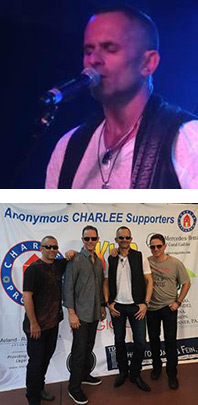 Miami Law alumnus and Miami trial lawyer Fred Fein, JD '89 of Thornton, Davis & Fein, P.A. and real estate attorney Mark Meland of Meland Russin & Budwick, P.A. recently found themselves sharing the stage with the legendary Eddie Money and Quiet Riot. The groups joined together to support Miami's CHARLEE, a 30-year-old organization dedicated to assisting abused, abandoned and neglected children and at-risk families of Miami-Dade County. Nearly 400 people showed up for the show at Miami's Grand Central following the premiere of an Alice Cooper narrated rockumentary. Fein and Meland's band, local favorite The Urge, opened for Eddie Money and Quiet Riot.
For Fein and Meland, the show was decades in the making. Both Fein and Meland have been active musicians for the majority of their lives, and both turned to rock and roll in 10th grade. For Fein, it was a move to a new high school where he found himself running with the "rock crowd". His friends encouraged him to put down his trumpet and pick up a guitar, and he never looked back. Fast forward to 1996, after his career as a skilled trial lawyer was well underway, he answered an ad in the paper and became one of the founding members of The Urge.
Meland, originally a pianist, also traded in for a guitar, a bass. He became part of the original school of rock in the 70's Rock Ensemble at Miami Beach High under the visionary tutelage of Clark Douglas Burris. Meland played in bands throughout high school and university and even enjoyed a three-year stint as a professional musician, opening for the likes of Cheap Trick, Molly Hatchett and Iron Butterfly before attending law school. He laughs, recalling he "played his last professional show on a Tuesday, got a haircut Wednesday, and attended law school orientation on Thursday."
It was not, however, the legal industry that brought the two musicians together. It was their wives. In 2004, Meland had been playing in a popular rhythm and blues band, ESQ, for several years, and Fein was busy with the now eight-year-old Urge, which initially played classic rock. Fein's wife, Carly, was one of Meland's son's camp counselors at Beth Moshe Day Camp, and Meland's wife was one of Carly's camp counselors when she attended The Lear School Day Camp as a youth. The women made the introduction, and Meland and Fein became friends and bandmates.
Over the next five years, The Urge transitioned from classic rock to a more modern, hard rock sound and played regularly at venues all over Miami. Charitable events were always a part of the plan, including Dade Legal Aid and the Cystic Fibrosis Foundation, so there was no hesitation when Elena Endara, a longtime friend and fan of The Urge, asked them to take the stage with Eddie Money and Quiet Riot on behalf of CHARLEE.
Balancing the lifestyle of a busy attorney and that of a rock musician may seem impossible, but Fein and Meland say it just feels right. Both believe that there is a great deal of common ground between both worlds. "For me, being on stage and being in front of a jury is very similar. They both involve performing and delivering a convincing message to your audience," says Fein.
"There is nothing better than talking about music over a drink with a client," Meland said. "That's relationship building. It beats a PowerPoint presentation any day."