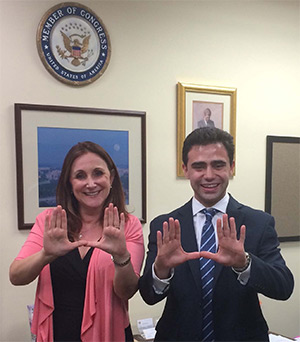 For Wendi Lipsich, JD '93, every day brings both a new challenge and a new way to serve the community. Lipsich, District Director for U.S. Congressman Ted Deutch (FL-21), oversees all of Congressman Deutch's District office operations and regularly travels throughout the District to keep informed of local concerns.
The job offers an opportunity to work with members of the community and explore policy issues. "It's a very rewarding job, you really get to see the impact that the office has on the community," said Lipsich.
Lipsich began her career in public service in 1993 as a Legislative Assistant to then-State Senator Robert Wexler. Lipsich credits both Miami Law's Career Development Office and the alumni network with help finding and securing the position.
After taking the Florida Bar, Lipsich saw the listing for the position with State-Senator Wexler. Immediately interested in the position, she contacted a friend from UM, Amy Siegel, who had graduated the previous year and was at the time working for Wexler. Siegel encouraged Lipsich to apply and said she would be a perfect fit for the job. The position was competitive – Wexler received over 300 applicants from law schools throughout the state. Lipsich's resume and background impressed, and she was offered the position.
Lipsich remained with Wexler, becoming his District Director in 1996 when Wexler was elected to the U.S. House of Representatives. She continued to serve in this capacity until 2010, when Wexler left Congress to lead the Center for Middle East Peace and Economic Cooperation. Wexler's successor in Congress, Ted Deutch, retained Lipsich as District Director, where she currently serves.
After 22 years of government service, Lipsich offers some candid advice to current law students interested in pursuing a career in government/public interest. "Intern," she says. "It's important to intern so that you can see if what you're doing is something you would be interested in after you graduate."
Lipsich also encourages students to get involved with various advocacy groups of interest to the student. "If you're interested in the environment, get involved with an Everglades project. If you're interested in children's rights, get involved with a children's group."
She also encourages students to attend conferences, go to symposiums, and meet experts in the fields of interest to them.
Lipsich looks back positively on her time at Miami Law. "I loved everything. It's a beautiful campus. I loved doing work outside. It was small enough that you got to know all of your professors, but it still had the benefits of a large school."