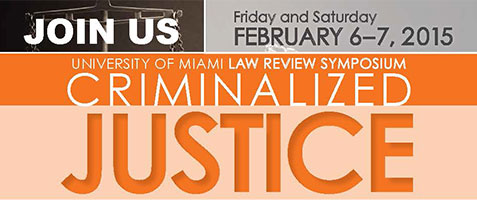 The University of Miami Law Review will hold its annual symposium on Friday and Saturday, February 6th and 7th at the Student Activities Center on the University's Coral Gables campus. The symposium -- "Criminalized Justice: Consequences of Punitive Policy" -- will feature the Honorable John Paul Stevens, retired Justice of the Supreme Court of the United States and Katherine Fernandez Rundle, Miami-Dade State Attorney, and will take a critical look at how our nation's laws have been increasingly criminalized over the past 30 years, the negative consequences of this criminalization, and recent positive developments.
The first panel will examine how and why an individual is more likely to be targeted by police because of their race, social class, or where they live and will discuss the cycle of crime and incarceration that this creates as well as possible solutions to this problem. The second panel will focus on the impact that the same trend of criminalization has had on incarceration. Discussed will be the radicalization of punishment and the problems that has created in our country's prison systems as well as the recent movement away from heavy sentencing. Since the Supreme Court's landmark opinion in INS v. Lopez-Mendoza in 1984 categorizing immigration proceedings as civil in nature, the immigration laws and the ways in which they are enforced have become increasingly criminal. The third panel will explore the issues that criminalization has created and what procedural and substantive protections should be in place as a result.
The first panel, "The Criminalization of Race and Poverty" will bring together Jeffrey Fagan, Isidor and Seville Sulzbacher Professor of Law, Columbia Law School; Jonathan Simon, Adrian A. Kragen Professor of Law, University of California, Berkeley School of Law; and Tristia Bauman, National Law Center on Homelessness and Poverty. The panel will be moderated by Charlton Copeland, Miami Law Professor.
"Sentencing Policy and Mass Incarceration" is the second panel with Franklin Zimring, William G. Simon Professor of Law, University of California, Berkeley School of Law; 
Douglas Berman, Robert J. Watkins/Proctor & Gamble Professor of Law, The Ohio State University Moritz College of Law; and Nicole Porter, The Sentencing Project. It will be moderated by Rebekah J. Poston, Partner, Squire Patton Boggs
On the third panel, "The Criminalization of Immigration Law," Daniel Kanstroom, Professor of Law, Boston College Law School; Paromita Shah, National Immigration Project of the National Lawyers Guild; and
Allegra McLeod, Associate Professor of Law, Georgetown Law and be moderated by Miami Law Professor David Abraham.
A roundtable discussion will follow moderated by Miami Law Professor Mary Anne Franks.
Gelber Schachter & Greenberg, P.A.; Hogan Lovells US LLP; Holland & Knight, LLP; Kenny Nachwalter, P.A.; Kozyak Tropin & Throckmorton, P.A.; LewisTein, P.L.; LexisAdvance; MiamiLaw/LAFAC, and Podhurst Orseck, P.A. are sponsoring the event.
For security reasons, attendees must be registered prior to the event. No walk-ins will be permitted on Saturday during Justice Stevens' remarks. The event is free and open to the public. Register for CLE credits; the cost is $25 per day. Parking is available at the Pavia Garage, 5615 Pavia Street, Coral Gables, Florida 33146.