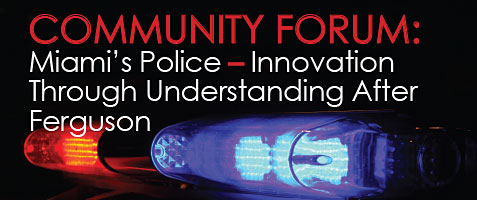 The University of Miami ACLU, in collaboration with the American Civil Liberties Union of Greater Miami; The Wilkie D. Ferguson, Jr. Bar Association; and the Black Lawyers Student Association held the first of series of community forums, Miami's Police: Innovation Through Understanding Ferguson.
The forum, on January 21st, addressed issues surrounding racism and police practices, in Miami and beyond, in the wake of national events deaths such as Michael Brown and Eric Garner as well as focused on the history, laws, and policies of Miami's police in the context of the rule of law and civil liberties.
"How is it possible that a grand jury sees no wrong in an unarmed 12-year old getting shot? How is it possible for Eric Garner to be choked to death, but people said he died because he was fat?" said Miami Law Professor Donald Jones.
Jones, author of Fear of a Hip Hop Planet: America's New Dilemma, did not shy away from discussing what he views as the main problem of racism in the 21st century – the culture and atmosphere of hostility toward "a certain group of Blacks" and the media portraying black communities as war zones. He sees the media as a cheering section for police and said, "if Justin Bieber was shot for no reason, the media would get the story right." One main problem, he suggested, is changing the culture when certain negative stereotypes are accepted as fact.
The panel, moderated by Howard Simon, ACLU Florida Director with community activist Julia Dawson; Miami Historian and Miami-Dade College Professor Dr. Paul George; Jones; Cristina Beamud, director of the City of Miami's Civilian Investigative Panel; and Whitney Maxey, an activist with Miami Committee Against State Violence. Daniel Palugyai, Treasurer of the Miami ACLU, will deliver the opening remarks.
The series are seeking, with community involvement, to open a sensible dialogue for the safety of our city's residents and law enforcement officers.
George gave a brief history of Miami's police force: its original function escorting "vagrants" up to Broward County. As Miami grew and became the "Magic City," he said, so did the police force. In that "boom time" of the 1920's many problems arose as a result, including the Miami police using an improvised electric chair to extract confessions from prisoners, and enforcing the "color line," which kept African-American Miamians within a predetermined part of town. Not surprisingly, there was a completely separate black police force until 1963, he said.
The forum was well attended with forty or fifty attendees – Blacks, whites, Hispanics, and young and old – including newly elected Miami-Dade County Commissioner Daniella Levine Cava.
When Maxey spoke, she emphasized the crucial role economics plays as the central issue in understanding police-community relations. She believes the police are used as a tool to maintain the status quo making reform difficult due to law enforcement being "an institution that was born out of racism." In her personal life, Maxey was brought up in upper-middle class America. She said that just because she is an African-American woman, she has been stopped in numerous neighborhoods to explain who she was and why she was there. She says the message was that if you weren't white and wealthy, you were not welcomed. Law enforcement is not the answer, she said, yet other forms of community policing are needed.
While recognizing that police and community relations need to be improved, Beamud was more optimistic that police/community situation does not have to be an either/or; rather, the community can cooperate with police and deal with violence while also being respected and not "over-policed." The community may have more success if people came forward, cooperated, and helped solve crimes, she said. People typically are more interested in "procedure" than "outcomes," so if you get people involved in making the community better and they feel that they were treated fairly, even if the result was not favorable, then police-community relations could improve, she said.
The panel discussion ended with many questions from the audience about the necessary mix of policy reform and culture change that needs to occur in order for the overall situation to improve. Cava noted her support of introducing legislation to reform police-community relations.
The panel was the first of many in a series of events designed to push forward the conversation in light of a long history of police and community tensions in the United States, particularly in Miami. The next panel is scheduled for February 24th at FIU Law. Contact ACLUMiamiLaw@gmail.com for more information.