At AIJ with Karyn Sanchez, Barbara Cabrera, and Jennifer Felipe 
Professional Responsibility & Ethics Program (PREP) students and director Jan L. Jacobowitz recently visited Legal Services of Greater Miami and Americans for Immigrant Justice (AIJ) to explore ethical issues that often arise in the high-volume, non-profit practice of law.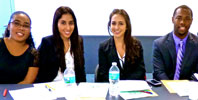 PREP fellows Jerome Jackson and Paige Rivkind, along with interns Gina Raijman and Karyn Sanchez conducted a training that focused on conflicts of interest, representing a client who lacks capacity, advising a client about social media and the circumstances under which withdrawing from a case is permissible.
"I really enjoyed being back at Legal Services for this year's training," said Rivkind. "The attorneys provided great insight and unique perspectives into the various ethical dilemmas we had researched."
"Presenting at Legal Services afforded me the opportunity to discuss ethical challenges that the lawyers confront in their practice and share a brainstorming session as to possible solutions to the ethical dilemmas that they currently face," said Raijman.
"Legal Services always has interesting cases, which make for interesting discussions around their ethical concerns. It's good to see our research being applied to such complex issues," said Jackson.
"The attorneys at legal services are so well engaged it provides us with a great opportunity to see the difference between academic situations and the everyday situations that arise during practice," said Sanchez.
At AIJ, PREP Fellow, Jennifer Felipe, and PREP Interns, Barbara Cabrera and Karyn Sanchez, touched upon the ethical dilemmas that arise in immigration practice. Specifically, the presentation focused upon the ethics rules that come into play when representing unaccompanied minors and clients with diminished capacity. In addition, there was a conversation pertaining to the different conflicts of interests that the attorneys at AIJ encounter in their practice. The presentation ended with a heartfelt discussion on the ethical implications of appointing a guardian and involving a social worker in the course of representation.
"The discussion with the attorneys at Americans for Immigrant Justice revealed the difficulty in determining ethical obligations in light of unprecedented situations, like the recent influx of undocumented minors," said Felipe.
"Discussing ethical obligations with the attorneys at AIJ made me realize the complexity of immigration practice and really appreciate the difficult work that they do at AIJ," said Cabrera.
PREP develops customized CLE ethics trainings thereby providing an opportunity for students to explore diverse areas of the law and interact with attorneys practicing in those areas regarding the ethical challenges that confront today's legal profession. The program combines the attributes of an ethics institute and an ethics clinic, and has dedicated hundreds of student hours to public service and has educated thousands of members of the Bench & Bar.
In 2012, PREP was recognized by the ABA with its E. Smythe Gambrell Professionalism Award —the leading national award recognizing programs and projects contributing to the understanding and advancement of professionalism among lawyers and judges. In addition to presenting ethics trainings, throughout the semester PREP students publish blog posts regarding the nation's newest ethics opinions and cases. The blog, Legal Ethics in Motion, can be found here.