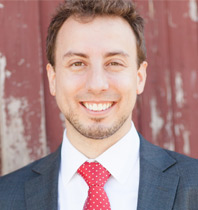 Miami Law alumnus Michael Daly has recently embarked on a new career as a Legal Adviser for the Iran-United States Claims Tribunal in The Hague in The Netherlands. He is involved in State-to-State claims and issues related to treaty interpretation and international law. Currently on the Tribunal's docket are several large and complex State-to-State claims between Iran and the United States.
Prior to his current position, Daly spent five years as an Associate at White & Case in Washington, D.C. working on international arbitration issues and he also spent one year as the Judicial Law Clerk for the United States District Judge Alan S. Gold (Southern District of Florida).
Originally from Massachusetts, he obtained his undergraduate degree from Georgetown University, and then headed to Miami Law after having worked as a paralegal at a boutique law firm in Boston specializing in immigration law and managing a start-up company in San Diego, California with work related to eBay.
Daly credits much of his success to Miami Law, where he was active on campus in a number of programs and opportunities.
"[My] Miami Law experience was quite enjoyable," said Daly. "I met a number of people who I remain close friends and colleagues with. I enjoyed taking part in the Leipzig-Miami Seminar lead by Professors David Abraham and Richard Williamson. I also enjoyed the work I did as Executive Editor of the University of Miami Law Review. It was rewarding to see one of our issues devoted to a long-time faculty member, John Gaubatz, who became sick and passed away during that time."
Daly, who has spent much of his career working in international arbitration, also praises Miami Law for its renowned focus in cross-border commercial and investment disputes.
"When I studied at Miami Law, the law school had just started becoming well known for its courses on international arbitration," said Daly. "It is nice to see that that the law school now attracts some of the most well-known people in the field to teach, including Jan Paulsson and Carolyn Lamm."